Location
Genspace
33 Flatbush Avenue
Brooklyn, NY 11217
Description
Fungi Fabrication: Mycelium Materials is a 3 session course.
July 30, August 6, and August 13 from 11am-2pm
As the design studio and biotech lab merge, the designer's material palette is expanding. Designed objects are increasingly being made with materials from nature, and nature's ultimate decomposer, fungi, is of the most exciting sources ripe with design potential. Creative applications for fungi based materials grown with mycelium range from biodegradable 'styrofoams' to leather-like textile alternatives.
In this course we will work with mycelium as material for experimental design applications. Working hands-on in the lab, participants will grow a variety of samples, starting from a store bought mushroom, to mycelium grown using experimental techniques, to shaping molds to form mycelium composite materials grown to shape.
Participants will gain skills and insight into potential applications for fungi based materials—walking away with new knowledge, mycelium tissue-culture skills, and grown material samples.
Instructor: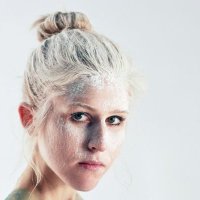 Ali Schachtschneider is an artist, designer and researcher in New York City working at the intersection of fashion and biology. As an artist at Genspace, Ali explores fashion as an extension of the body by growing biomaterials and garments. Her work has been exhibited at ASU's Emerge, SXStyle, Columbia University, Plaguespace, and Parsons School of Design. She has received awards from the Royal Society of the Arts and has spoken at Eyebeam Art and Technology Center and Manufacture New York. She is a part-time faculty at Parsons School of Design in New York.www.alischachtschneider.com