Fundraising Strategies by Jon Gregory (CEO innovate-northstate)

Wednesday, May 21, 2014 from 4:00 PM to 6:00 PM (PDT)
Event Details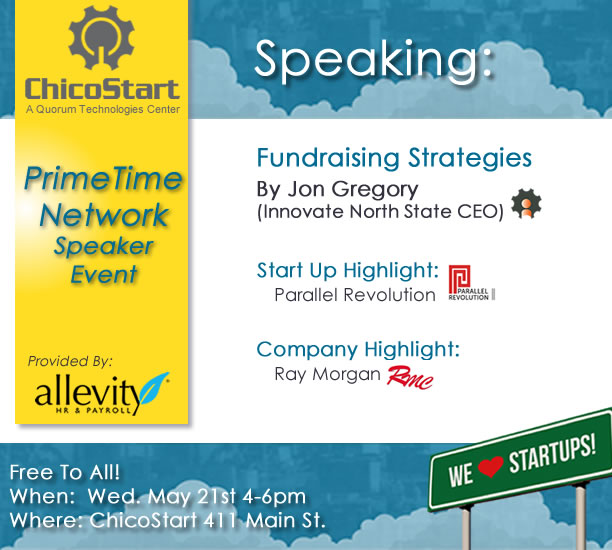 Don't miss this opportunity to hear from Jon Gregory who has spent 25 years at the convergence of innovation, entrepreneurship, venture capital and angel investment, and economic development -- with unique knowledge of what it takes for communities and regions to grow an economy, and what it takes for growth-focused companies to raise capital and scale their ventures.  His goals are to help the 1%er entrepreneurial companies that exist in every community access the resources they need to succeed. These companies represent the historic economic foundation of our country, and the future as well....they have the hardest job, and get little support.

While founder/CEO of Golden Capital Network he hosted venture forums throughout California and Nevada that featured over 1,500 alumni start-ups to over 300 different venture capital funds and angel groups. Companies that we showcased very early in their start-up phase include PowerSchool (acquired by Apple), A Place for Mom (acquired by Warburg Pincus), SecurityFocus.com (acquired by Symantec), StubHub (acquired by EBay), InterVideo ((IPO), Pandora Media (IPO), Health Media (acquired by Johnson and Johnson), many other high growth companies that have gone on to create thousands of California jobs.  
---
ChicoStart's PrimeTime Network Speaker Series
Free To All!

Learn from the best & brightest in and around our region

Network with other business leaders 

Gain exposure to start-up companies 
Sponsored by Allevity HR & Payroll ChicoStart's Prime Time Network provides a great opportunity for your business to be exposed to new ideas, creative people and successful leaders. This presenter series is aimed not only at new start up companies but the business community in general. Each month great speakers will be presenting, new companies will be highlighted and an opportunity for strategic contacts will be available. Held each month on Wed. afternoons 4-6pm at the ChicoStart Incubator.
Prime-Time Network will gather business leaders, venture capitalists, and successful entrepreneurs from in and around the Northern California region each month. Hear from some of the best and brightest business minds in our region!
VIDEO CONF AND DIAL IN INFO:
Web Conf Video Link:  
https://quorumweb40.wspbx.com/ucc/video/wsvconf.jsp?connectmeid=0a1b13976759996572c3A&type=VideoConference&name=ConnectMe_Video_Call_2014-04-16_12:19:59 
Dial In:
530 487 1732 pin 12334 
Have questions about Fundraising Strategies by Jon Gregory (CEO innovate-northstate)?
Contact Chicostart
When & Where

ChicoStart
ChicoStart 411 Main Street Suite 101
Chico, Ca 95928


Wednesday, May 21, 2014 from 4:00 PM to 6:00 PM (PDT)
Add to my calendar
Organizer
Chicostart offers resources to startups and provides a physical platform to facilitate and nurture the growth of Chico's technology sector, is an active hub for connecting with everyone in the startup ecosystem, and ultimately is a catalyst for innovation, job growth and startup success.
THE PLATFORM includes shared office amenities, mentoring, workshops, internships, tech talks, student to business projects, entrepreneurial events, think tanks, satellite office programs and anything else that helps our core mission of helping startups succeed.
THE ECOSYSTEM includes but is not limited to investors, technologists, entrepreneurs, students, educators, local businesses and mentors.