Fundraising For France

Sunday, March 8, 2015 from 7:00 PM to 10:00 PM (CDT)
Event Details
Join me for dinner, specialty cocktails and a performance from the Lyra Guitar Quartet as I fundraise my way to France.
If you can't make dinner you can still make a donation here AND get a cocktail recipe created in your honor!
Sunday March 8th
7pm-10pm
4842 N Hoyne Ave #3S
Stay tuned for Menu details :) There will be vegetarian and gluten free options of course!
I am co-facilitating a new Research and Performance Lab with Choreographer and Dancer Camille Revol at the Collectif Représentiste - Le Plongeoir in Lyon, France. I will be collaborating with artists I met at Weave in October of 2013, my first artist residency in Brussels, from April 2nd-April 8th.
This performance and research lab will use improvisational activities as a platform for social mapping and exploring group composition. Due to the international nature of this workshop collaboration we have the opportunity to explore cross cultural understandings of self and ensemble through group decision making and performance. We will investigate universal themes of political and gender-based oppression through improvisational games and choreographic systems that consider: action/reaction, impulse, playfulness, responsibility, leadership and space/time. Collaborators will participate in a variety of improvisational exercises including Richard Siegal's choreographic system If/Then (facilitated by Camille Revol), Gender Loops (facilitated by Azahara Ubera) and Augusto Boal's Columbian Hypnosis/Theatre of the Oppressed (facilitated by Lindsay Hopkins). This research will provide a platform for making an original score for improvised and ensemble driven performance during collaborative rehearsals throughout the lab. As we work together to create an original system for devising improvisational performance we will document our process through graphic images and visual art. 
The purpose of Le Plongeoir, an arts collective in Lyon, is "for the creation of a forum for the free representation of the world through the practice of the arts in all its forms".
Or for those of you who speak French: "Pour la création d'un espace de libre représentation du monde à travers la pratique des arts sous toutes ses formes."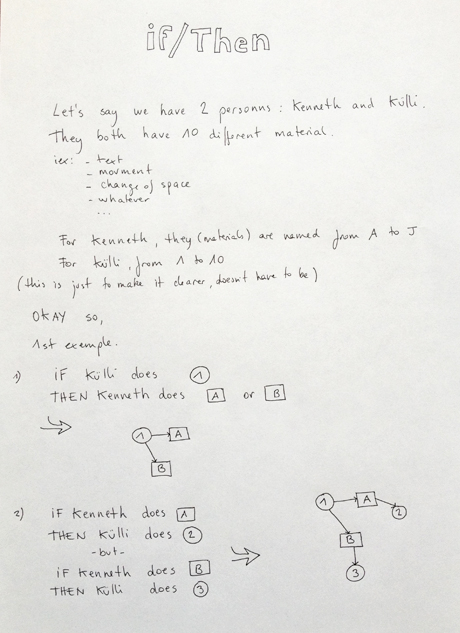 When & Where

My Home!
4842 N Hoyne Ave
Chicago, IL 60625


Sunday, March 8, 2015 from 7:00 PM to 10:00 PM (CDT)
Add to my calendar