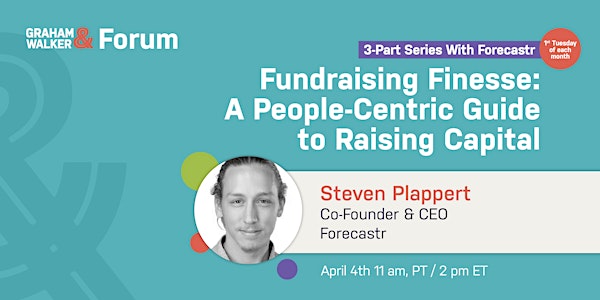 Fundraising Finesse: A People-Centric Guide to Raising Capital - Forecastr
Presented by Graham & Walker in partnership with Forecastr, Part 3 out of 3
Date and time
Tuesday, April 4 · 11am - 12pm PDT
About this event
Proven tactical tips you can use to crush your next round. How to build momentum, negotiate terms, and close the deal!
G&W, in partnership with Forecastr, is concluding our 3-part series with this session that will give you a leg-up as a female founder while fundraising and going through financial diligence.
Featured speaker: Steven Plappert, Co-Founder & CEO, Forecastr
Steven is a two-time Techstars alum & serial entrepreneur that loves helping other founders. He's spent four years providing outsourced financial leadership to growing companies. When he isn't working on Forecastr, you can find him in the woods camping & rock climbing.
About Graham & Walker
Graham & Walker is a venture firm that activates the potential of all women in business through programs, community, and direct investments. We are on a mission to reshape the Nasdaq by investing in tech companies founded and led by women. For more information, please visit https://grahamwalker.com
-----
By registering, you agree to receive updates about news, programs, and special events from G&W.
This event will be recorded and your likeness or image may be used in media to promote future G&W events and programs.
About the organizer
Our mission is to activate the potential of all women in business for the benefit of all humankind. Graham & Walker was formerly known as Female Founders Alliance.