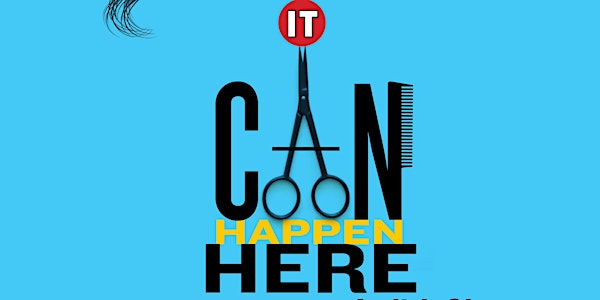 Fundraising event for IT CAN HAPPEN HERE project
When and where
Location
Jamaica Performing Arts Center (JPAC) 153-10 Jamaica Avenue Queens, NY 11432
Description
Join us for a fundraising event featuring a performance excerpt, conversation, and cocktails to support further development of IT CAN HAPPEN HERE.
Saturday March 23 hosted by Courtney Ffrench from Jamaica Performing Arts Center, and Brendez Wineglass from Jamaica Is.
Your donations go directly to pay actors, singers and musicians to perform in the work.
come at 4:30 and stay till 6:30 or attend the evening dance concert at 7pm
with your $100 donation- get into dance concert for free
with your $30 donation come to the event
early bird $25 purchase by March 20
Can't attend but want to support the project? Please donate here or online at https://earsay.org/donate/ Every little bit helps.
Listen to and buy the signature song here https://itcanhappenhere.hearnow.com/
Staying for the dance concert at 7 PM. Vissi Dance Theater. Founded in 1997 by Jamaican dancer/choreographer Courtney Ffrench, the Vissi Dance Theater is comprised of dancers from around the world who bring with them their cultural diversity and unique perspective. Combining drama and dance in captivating ways, the Vissi Dance Theater explores moral and social issues through art. The dance company's style has been described as "Urban Contemporary" and is a lively combination of various forms of jazz, modern, West African, funk and ballet. In recognition of Women's History Month, Vissi Dance Theater is honoring 6 recipients for outstanding service to our community: Petula Beckles, Kerri Edge, Tajuana Hamm, Maria James, Malikka Karteron and Judith Sloan.
---
About IT CAN HAPPEN HERE. photo credit Ward 8 Studios
In "It Can Happen Here," two hairdressers-one black, one white-in an ever-changing neighborhood in Queens, embark on a new dream from their two-chair hair salon. They follow their passion for singing and nurturing a community in the midst of a national political climate of chaos, division and autocracy. These two women from different generations have lived next door to each other for 34 years and have worked together for over a decade. They confront the repressive political climate and gentrification with idiosyncrasies and humor, until one of their clients, facing a deportation crisis, presents them with a moral dilemma.
Written by Judith Sloan, winner of the Brendan Gill Prize. "It Can Happen Here," references the Sinclair Lewis novel, It Can't Happen Here, which chronicled the fictitious election of a power-hungry politician who stirred up fear by promising a return to patriotism. For nine months, Sloan, award-winning performer, and radio producer (Crossing the BLVD, 1001 Voices: Symphony for a New America), talked with residents of Queens – the most diverse locality in the U.S. – about their hopes, fears, and aspirations. "Like the novel, It Can't Happen Here, my play is inspired by real events," says Sloan. "It Can Happen Here" was commissioned by the Queens Council on the Arts' inaugural Artist Commissioning Program (ACP), which provides local choreographers, playwrights and composers with funding towards the creation and production of original work. Selected for her project's capacity to tell untold stories in American art, Sloan was one of four artists chosen for the 2017-2018 inaugural award.
photo of IT CAN HAPPEN HERE in performance by Ward 8 Studios.