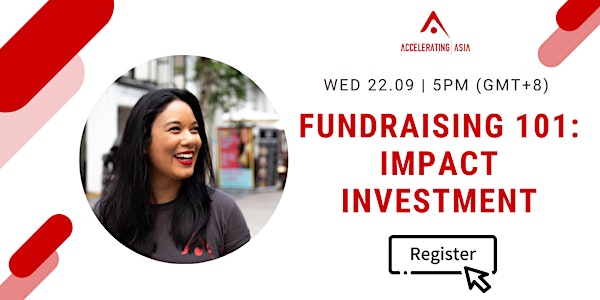 Fundraising 101: Impact Investment
All about how startups can raise investment from impact and ESG investors from what investors look for and how to build your funnel.
About this event
Did you know in 10 years, private impact investors have deployed more than $900M t in Southeast and South Asia while Development Finance Institutions, contributed $11B to sustainable projects. With the number of new impact and ESG funds recently announced, that number is expected to grow in the next 10 years.
Most startups we know are always looking to raise money.
And for most startups in Southeast and South Asia it is possible to raise investment from impact investors because of the solutions you are addressing in emerging markets.
Added plus - a lot of Development Finance Institutions provide equity free and grant funding - so you can fundraise at an early stage without giving up Founder equity.
In this webinar, General Partner and Co-Founder Amra Naidoo will run through:
How to fundraise from and find impact investors
What impact investors look for in startups
Early stage fundraising strategies and building your connections with impact investors
This is for any startup founder looking to raise impact investment.
About Amra Naidoo
Amra is passionate about working to close the gap between commercial and social sectors and supporting for profit businesses to exceed commercial KPIs while driving social impact. She is the Asia Pacific lead for Shaper Impact Capital, a Singapore Global Shaper, an initiative of the World Economic Forum and is the host and creator of the Doing Good Podcast.
For close to a decade this passion has driven Amra's innovative approach to program execution and partnerships that intersect both business and social objectives.
Amra has spearheaded high-impact partnerships local, regional and globally. Her successful campaign and project outcomes consistently achieve results. Previously Amra led the award-winning UN Women Singapore global social entrepreneurship program, Project Inspire and was a key contributor to muru-D's wide recognition as one of the top startup accelerator programs in Asia.
It is this outlook and depth of experience that has fostered a unique perspective and an ability to deliver high impact programs at Accelerating Asia for multinationals and governments to optimise engagement with startups.
She has been interviewed and featured as a guest author on industry blogs, including The Straits Times, Techcrunch, Reuters and named as one of Harpers Bazaar's Women Who Inspire Others. She also is a regular guest on 938Now's drive-time show – Singapore's national English news radio station. Amra regularly speaks about the intersection of business and impact, including at global events such as Money 20/20 (Singapore), Singularity University Impact Challenge (Poland) and the Asia Corporate Sustainability Summit (Philippines).
About Accelerating Asia
Accelerating Asia is an accelerator VC that runs programs for early-stage startups and investors. Licensed by the Monetary Authority of Singapore, Accelerating Asia's early-stage VC fund focuses on pre-Series A startups with untapped potential that are 6-18 months away from institutional funding. Accelerating Asia invests up to US$250,000 in pre-Series A startups, and the current portfolio covers over ten countries in Southeast and South Asia.
With a track record of success, Accelerating Asia startups have raised S$30M from angels, family offices and institutional investors. Since joining Accelerating Asia's program, startups have grown monthly revenue an average of 350% after graduation.At the core of the work we do is the guiding belief that entrepreneurs are one of humanity's greatest catalysts for positive change.
PS: sign-up for Amplify, our 6-module online program designed to fast track startup growth and fundraising. Startups gain direct access to the Accelerating Asia team and network. Live sessions start September 27. Join Amplify now