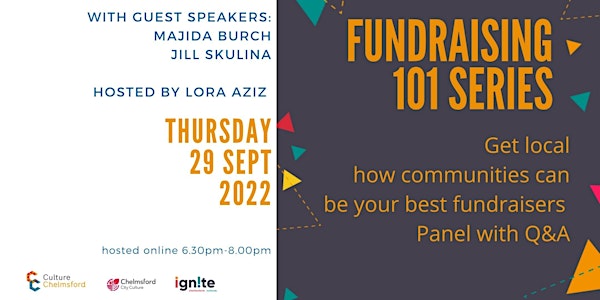 Fundraising 101: Get Local
Fundraising 101: Get local your local community are your best fundraisers
About this event
Join us to find out more about how your local community can help you fundraise for your projects.
Jo Breeze who has helped creators raise hundreds of thousands of pounds via rewards-based crowdfunding to support film-making, music recording, writing, arts projects, even political activism. She will be giving us her top tips on how to kick start your crowdfunding campaigns from choosing the right platform to creating an audience. If you've never done crowdfunding before or would like to polish your skills this is the advice you've been waiting for.
We'll hear Majida Burch (Brennan and Burch) talk about a successful crowdfunding project for the sensational book The Thing About Artists . And joining her will be Jill Skulina who has just ventured into the world of Patreon, a direct to fan platform which is changing the way that art is valued. She's joining us to share how she's finding this approach where fans support the work of creatives via a monthly membership.