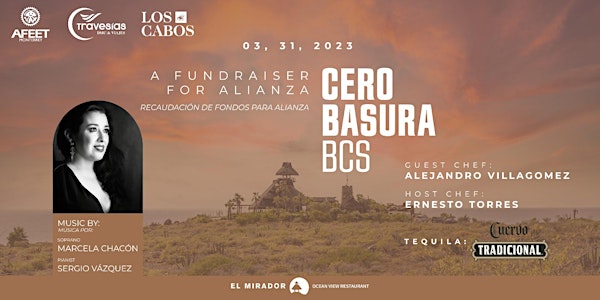 Fundraiser for Alianza Cero Basura at El Mirador Oceanview Restaurant
Dinner by celebrated chef Alejandro Villagomez, music by soprano Marcela Chacon and pianist Sergio Vazquez, and tequila by Casa Cuervo.
By Alianza Cero Basura Todos Santos & El Pescadero
Date and time
Friday, March 31 · 5:30 - 9pm MST
Location
El Mirador Ocean View Restaurant 1 Rafael Pedrajo Todos Santos, BCS 23300 Mexico
About this event
3 hours 30 minutes

Mobile eTicket
We invite you to join us for a wonderful evening featuring celebrities from near and afar:
Chef Alejandro Villagomez, named by Food and Wine Magazine as one of the best new chefs in Mexico, worked at the famed Pujol in Mexico City for 10 years. He now lives in La Paz where he owns and operates Nemi, which he calls "a restaurant made from a pure heart". Chef Villagomez will be cooking with produce donated by our local, sustainable farmers of land and sea including oysters from Sol Azul, totoaba from Earth Ocean Farms and Pesca Con Futuro, kampachi from Omega Azul, produce from Sueño Tropical and Baja Sage, and coffee from Baja Beans. He is hosted by Chef Ernesto Torres of Grupo Guaycura, and will be collaborating with AFEET chefs Nelly Velasco and Mely Mendoza.
Marcela Chacon is a celebrated soprano who performs regularly with Compañía Nacional de Ópera en México, and has also performed in Italy, Colombia, the Czech Republic, and Slovakia. Her repertoire spans Carmina Burana, Misa Solemnis, Ninth Symphony, Rossini and Dvořák's Stabat Mater, War Requiem, Exultate Jubilate, Mozart's Requiem, Mahler's Fourth Symphony, and much more besides. Ms. Chacon studied under Eva Klietman-Bartfai in Austria, and Ramon Farías and Arturo Nieto in Mexico.
Sergio Vazquez is deemed one of the most active and versatile pianists in Mexico, and he is currently the main pianist of the Chamber Choir of the National Center for the Arts. He also collaborates with the National Coordination of Music and Opera. He has played at major theaters in Mexico, Cuba and the United States, as well as in London, Paris, Madrid, Palma de Mallorca, Ibiza, Hungary and Zagreb.
Casa Cuervo boasts over 250 years' experience producing tequila with the highest level of craftsmanship, using recipes that have been handed down through the generations.
Included tonight: Dinner, entertainment, tequila tasting (30 minutes) and cocktails (60 minutes) courtesy of Casa Cuervo. Cash bar available afterwards. Araceli Ramos, Director of Promotion and Public Relations for Casa Cuervo, will be hosting the tequila tasting as well as the Casa Cuervo Cocktail Hour to follow.
PLEASE USE GOOGLE CHROME TO PURCHASE YOUR TICKETS
All funds raised this evening will go to Alianza Cero Basura, a citizen coalition whose ultimate goal is a community united to produce less waste, take responsibility for the waste it does produce, and support a circular economy in which waste is repurposed by vibrant local businesses. This fundraiser will support the five programs of Alianza Cero Basura's two-year strategic plan: community engagement, school engagement, waste separation, waste reduction and organic waste management. This is your chance to hear all about it!
This evening is brought to you by El Mirador Oceanview Restaurant and the Association of Female Tourism Executives-AFEET. Founded in 1970 to bring together leading female executives in the tourism industry in Mexico, two of the key missions of the BCS chapter of AFEET are to: 1) strengthen social programs that improve the state of BCS through tangible, quantifiable actions; and 2) take action to raise awareness as to the importance of sustainability to the environment.