Funding women peacebuilders: Making the case through research & media at the 61st session of the Commission on the Status of Women (CSW 61)

Wednesday, March 22, 2017 from 9:00 AM to 10:30 AM (EDT)
Event Details
Please see below for instructions on accessing the webinar.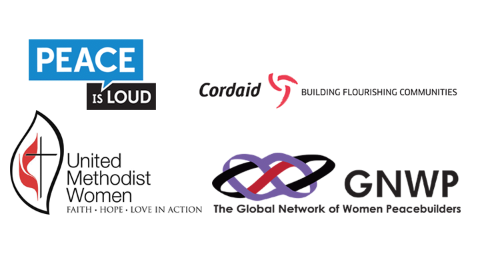 Funding women peacebuilders: Making the case through research & media at the 61st session of the Commission on the Status of Women (CSW 61)
An interactive panel discussion on women's critical contributions to peacebuilding, including implementation of United Nations Security Council Resolution 1325, the role of the media, and intersections with women's economic empowerment. 
Moderated by Cora Weiss
UN Representative, International Peace Bureau

Featuring remarks by:
Mavic Cabrera Balleza
International Coordinator, Global Network of Women Peacebuilders (GNWP), Philippines

Nyaradzayi Gumbonzvanda
Founder and Chief Executive, Rozaria Memorial Trust, Zimbabwe
African Union Ambassador on Ending Child Marriage 
Kateryna Levchenko
President, International Women's Rights Center, Ukraine
Dicky de Morrée
Lobby & Advocacy Officer, Women, Peace, Security & Justice, Cordaid, Netherlands 

Joanna Hoffman

Events and Communications Manager, Peace is Loud
, USA
Please follow the instructions below to access the webinar from your computer. You will not need to download any applications. Please be sure your computer audio is turned on, or use the dial-in numbers to access the meeting audio. Video and Powerpoint slides will be shown, and so we request that you use the meeting link rather than only dialing in by phone.
We will have a Q&A session in the last 20 minutes of the webinar, after all presenters have delivered their talks. To ask a question, you will be able to use a Q&A function when notified. You can also use the chat function, or ask your question outloud.
To join at 9am EST on Wednesday March 22:
1. Join the online meeting:
Online Meeting Link: https://join.freeconferencecall.com/peaceisloud1325
Online Meeting ID: peaceisloud1325
2. For audio, you may either use your computer's audio, or dial in using the numbers below below:
Dial-in Number: (515) 604-9763 - United States
Access Code: 125884
International Dial-in Numbers: https://www.freeconferencecall.com/wall/peaceisloud1325/#international
For 24/7 customer service please call 844-844-1322
When & Where

Online- see description for link & instructions




Wednesday, March 22, 2017 from 9:00 AM to 10:30 AM (EDT)
Add to my calendar
Organizer
Peace is Loud, Global Network of Women Peacebuilders (GNWP), Cordaid and United Methodist Women