FUNDAMENTALS OF SALES & SELLING - Enhance Your Professional Selling Skills
Actions and Detail Panel
FUNDAMENTALS OF SALES & SELLING - Enhance Your Professional Selling Skills
Tue, Feb 28, 2017, 9:00 AM – Wed, Mar 1, 2017, 4:00 PM AST
Description
INTRODUCTION
There is mounting pressure facing salespeople in today's tough economy, yet many sales people and customer service professionals do not have a solid foundation or understanding of the fundamentals of sales and selling.
In this two-day highly interactive professional selling skills workshop, you will be equipped with the tools and techniques needed to achieve sales success and improve personal performance. During this program, you will receive a road map of the entire sales process covering every phase of the selling process. As a participant, you will practice and develop the enhanced listening and state-of-the-art prospecting skills you need to succeed as a professional salesperson in a unique business climate.
---
OVERVIEW - FUNDAMENTALS OF SALES & SELLING
Many sales people fall into the trap of talking too much, to the point of actually talking their way out of the sale. This happens because they are eager to tell customers all about the features or benefits their product/service will bring or how great their company is, without first understanding the needs, wants and desires of the customer which is not the best approach to selling.
The Fundamentals of Sales & Selling:
This two-day extensive sales training program guides participants towards uncovering the "Right" skill set and mind set professional sales people should possess. From controlling conversations with customers, to asking the right questions, to uncovering customer's needs, this program will enhance sales and customer service staff's ability to connect better with customers, overcome objections and close the sale confidently and effectively while delivering commercial and sales objectives.
Powerful sales questioning technique:
The core of this program teaches a more effective and more professional sales approach that primarily depends on asking a series of questions in a specific order that enables you to find out your customer needs and not only uncover problems, but also ask questions that make customers realize that the problem she/he has been chugging along with comfortably is now too big to ignore.
Selling to different personality types:
Moreover, many salespeople also have a single, preferred style of selling and find it difficult to sell to different types of buyers. Part of this program focuses on dealing with different personalities of buyers and how taking this into consideration and adopting a slightly different approach with each customer will help you be more successful in rapport and closing more sales.
---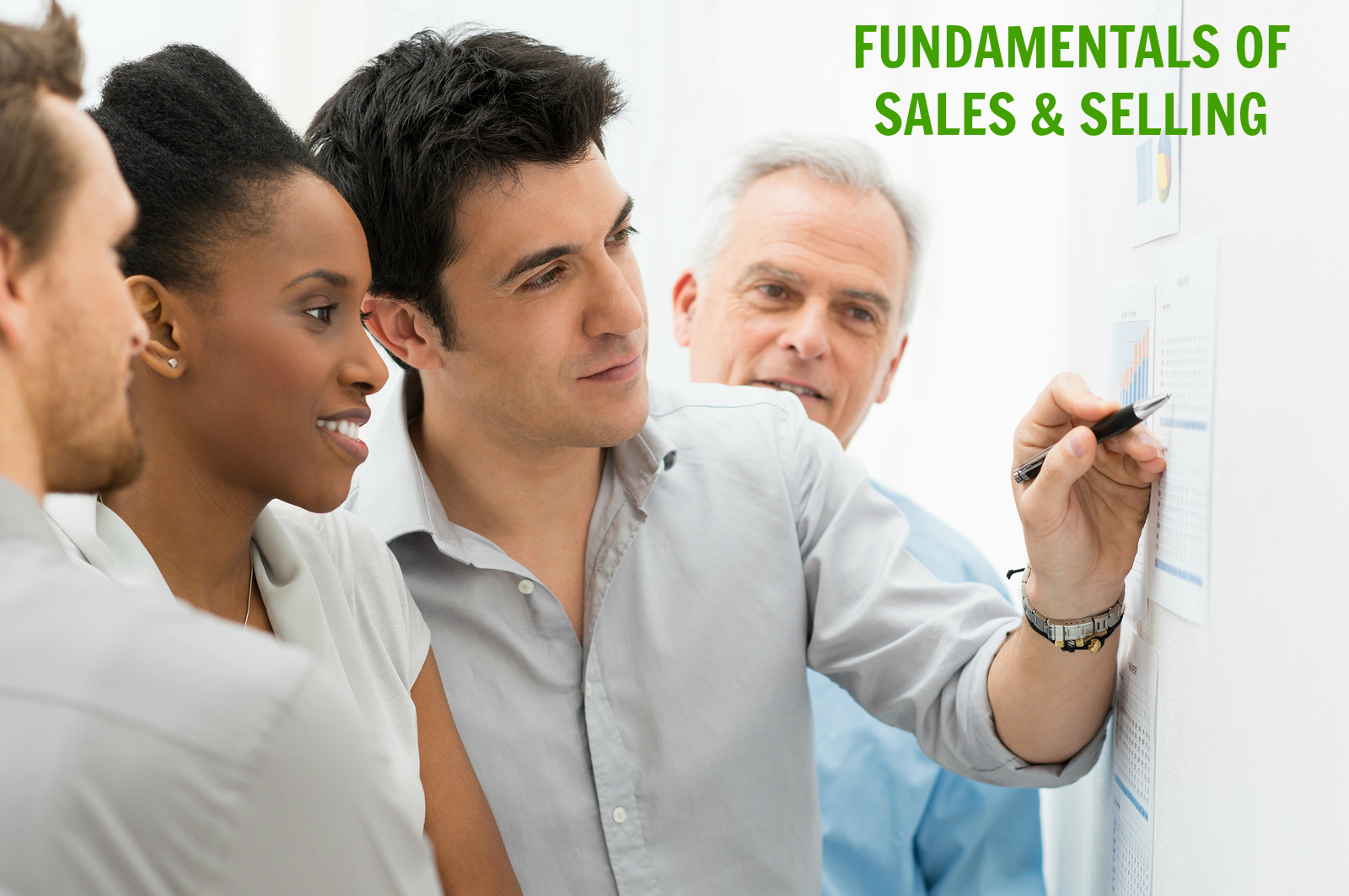 FUNDAMENTALS OF SALES & SELLING - Enhance your Professional Selling Skills
COURSE OBJECTIVES: By the end of this training course participants will be able to:
Understand what is needed to have both the right skill set and mind set to sell.
Connect better with customers, overcome objections and close sales confidently and effectively to achieve sales targets.
Learn and practice an effective sales questioning technique that will increase the likelihood of making a sale by better understanding customer needs while maintaining a great customer experience.
Understand the 4 major behavioral styles and personality types and how to sell to each buyer type.
---
WHO SHOULD ATTEND
Individuals with less than three years of selling experience, as well as potential candidates for sales positions. Small business owners, independent consultants, business account managers and customer service representatives will also benefit from this course, as well individuals who want to build and revitalize their existing selling skills.
---
FACILITATOR
Nancy Beth Guptill, President & Executive Consultant
Sweet Spot Academy
---
WAYS TO REGISTER
Register Online | Email: info@sweetspotacademy.ca

Call: 902-724-3330 | Fax: 902-724-3331 | Text: 902-954-0481
---
COURSE TYPE - Classroom | Bring this course to your team or organization with onsite training
Your course may be eligible for funding through ACOA's Business Development Program - Non-Commercial Projects, Innovation PEI's Professional Services Assistance program or The Canada - Prince Edward Island Job Grant program available through Skills PEI.
ACOA's Business Development Program - Non-Commercial Projects is for non-commercial, not-for-profit organizations. The proposed project must provide a service to business in areas such as entrepreneurship development, marketing, training or technology transfer.

Click Here for Details
Professional Services Assistance, Management Skills Training is for Entrepreneurs, Small Business Owners and Independent Consultants. Click Here for Details
The Canada - Prince Edward Island Job Grant provides employers with funding to train new or existing employees to meet the skill requirements for available jobs. Click Here for Details
BRING THIS COURSE TO YOUR TEAM OR ORGANIZATION WITH ONSITE TRAINING
---