Learn how to design and construct clothing without the use of a sewing machine in our transformational, hybrid-style, DIY workshop series.
About this event
Simply Netfah DIY Workshop Series Dates:
SATURDAY MAY 1, 2021 [ 11am-2pm]
SATURDAY MAY 8, 2021 [ 11am-2pm]
SATURDAY MAY 15, 2021 [ 11am-2pm ]
SATURDAY MAY 22, 2021 [ 11am-2pm]
Our Go-Green DIY workshop series offers a hybrid, hands-on learning experiences where you will be taught basic raw construction techniques for fashioning eco-friendly crafts without the use of a sewing machine. Instead, you will recycle, reconstruct and repurpose both man-made and nature made materials to complete your projects using some basic skills and use of your own unique creativity.
During our weekly series you will also…
1. learn basic fundamentals of clothing design, pattern making and construction through the use of instructional and hands-on methods.
2. learn how to create functional and fashionable accessories and articles of clothing through the manipulation and construction of various fabrics and materials using creative alternative techniques.
3. learn both modern products and 'old school' applications used for garment construction without a machine.
4. learn the basic concept behind wholistic (holistic) dress, its purpose, connection to them respectively and individually, and how to apply it in your personal life.
5. Learn how to become Earth Stewards and play an active part in saving our planet thru the education and application of recycling, reconstructing and re-use.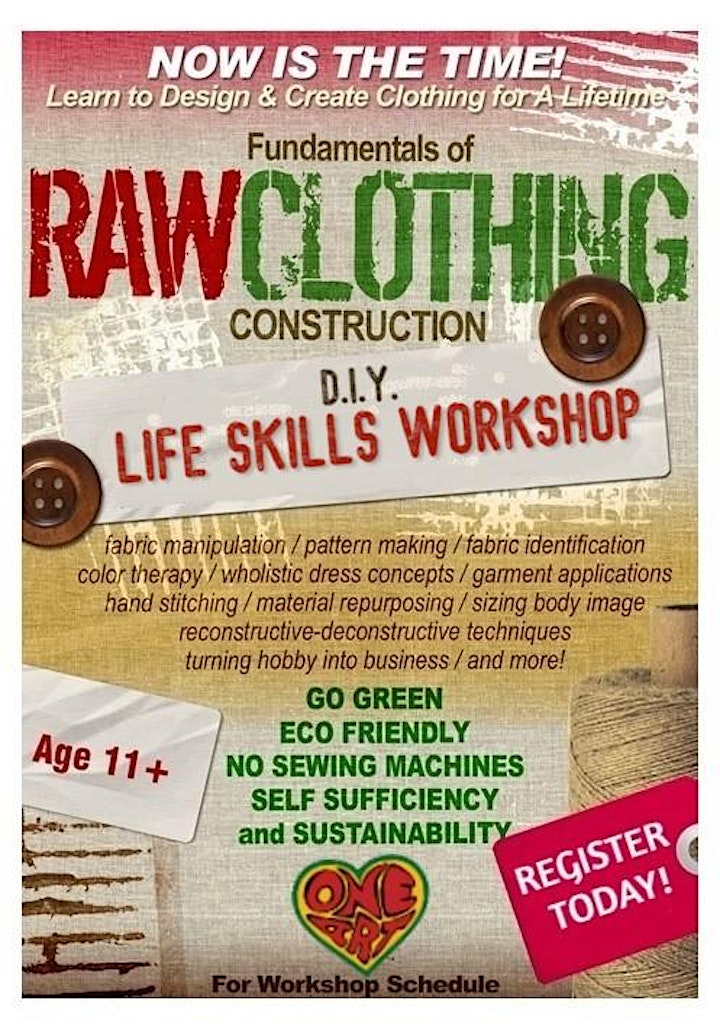 *Unrolling registration .Tickets good for dates noted. Register for classes as they come or for the whole series at once.
*All required materials included in price. No additional costs for supplies.
*To comply with the CDC's COVID-19 guidelines, masks are recommended and limited capacity seating is in place. No tickets will be sold at the door. Pre-register to secure your spot today.
* Space limited. Max seating per class 12. Don't delay. Secure your spot today.