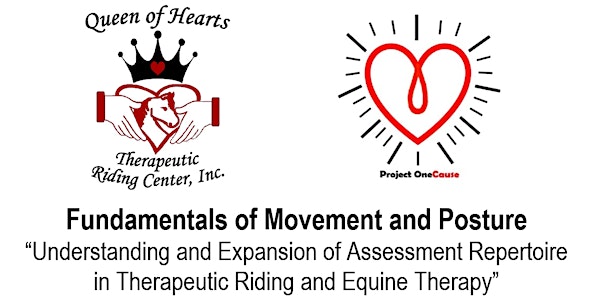 Fundamentals of Movement and Posture - Date Changed to March 5-6, 2022
An in-depth exploration of the biomechanical, psychological, & social considerations of Therapeutic Riding and Equine Therapy.
About this event
DATE CHANGE DUE TO COVID SURGE PRECAUTIONS: New Date - March 5-6, 2022
In collaboration with Queen of Hearts Therapeutic Riding Center, Inc. and Project One Cause, this 1-1/2 day workshop will be presented by Gavin Broomes, B.Sc.,, FTMA(c). There will be two 30-minute breaks with water and a variety of snacks provided.
Gavin is a Neuro-Rehabilitation Specialist and Movement Analyst specializing with children with Cerebral Palsy and other disorders of movement and posture. He is the creator and co-founder of Fascia Therapy which is a neurorehabilitation concept as well as the GBM Method which implements innovative approaches to performance and injury rehabilitation. Adding to 24+ years of professional practice, Gavin has been fortunate enough to have worked closely with people along the entire spectrum of physical aptitude ranging from the elite athlete to the most severe manifestations of movement disorder such as Cerebral Palsy and Multiple Sclerosis.
Queen of Hearts Therapeutic Riding Center, Inc. is located in Jurupa Valley, CA and is a nonprofit 501(c)(3) equestrian center for persons with special needs. For over 20 years, Queen of Hearts' mission is to improve the bodies, minds, spirits, and quality of life of persons with physical and/or developmental disabilities and/or mental illnesses through equine-assisted services. Its vision is to be an inspiration and educational resource to the equine therapy profession and advocate for the healing and humane relationship between horses and humans.
Partnering through Caelum One Cause, Gavin Broomes and Queen of Hearts Therapeutic Riding Center will explore how the biomechanical, psychological, and social considerations of therapeutic horseback riding intersect.
For further information, please contact: Annmarie Miller of Project One Cause, mmoey@msn.com, 951-201-2679.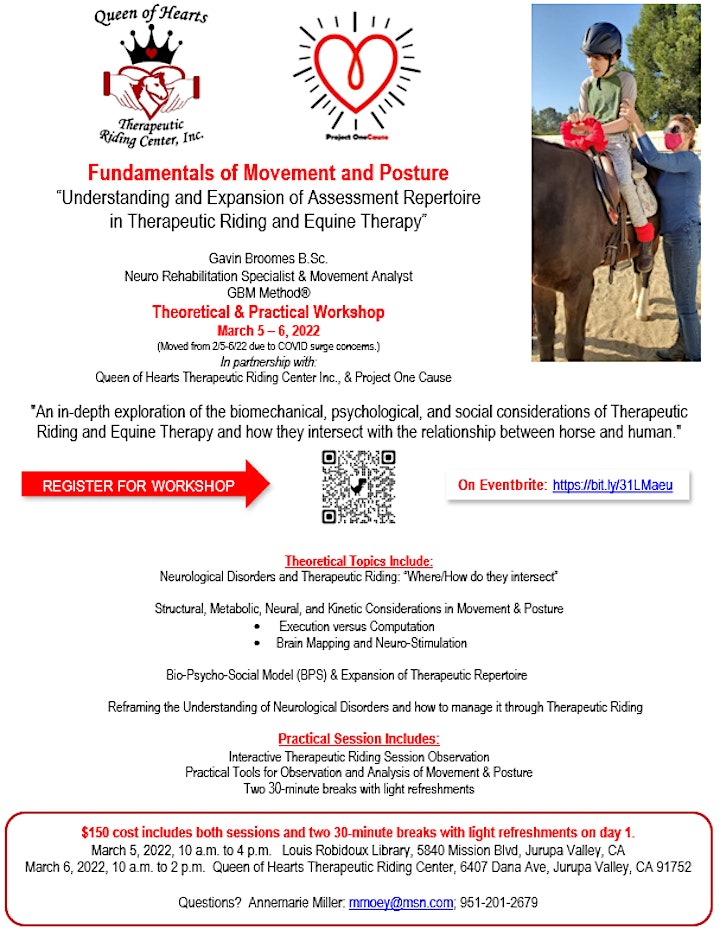 Organizer of Fundamentals of Movement and Posture - Date Changed to March 5-6, 2022