The Fundamentals of Astrology for Educators, Therapists, Social Workers & Wellness Professionals
About this event
It's finally here! Another #passionproject that I am so excited to finally share 🌸 ...an Astrological Training Program for Professionals in the therapeutic, human services and wellness fields...Yay!
Carl Jung wrote, "As I am a psychologist, I'm chiefly interested in the particular light the horoscope sheds on certain complications in the character. In cases of difficult psychological diagnosis I usually get a horoscope in order to have a further point of view from an entirely different angle. I must say that I very often found that the astrological data elucidated certain points which I otherwise would have been unable to understand. From such experiences I formed the opinion that astrology is of particular interest to the psychologist, since it contains a sort of psychological experience we call "projected"- this means that we find the psychological facts as it were in the constellations." .
.
.
I cannot overstate the effect I expect your knowledge of and effective use of astrology to have on your ability to 1.) understand your clients in a more in depth way 2.) assist your clients/students in self acceptance, self analysis and self mastery and 3.) enrich the foundation of your own life through this introspective tool
.
.
.
Day 1 ($500) of the Training will be a full day and the 2 follow ups ($250 each) are half day trainings. You will receive a certificate from The AfroGoddess Awakenings Institute and Sacred Arts Temple at the successful completion of all three trainings which include assessments 🙏🏽 .
.
.
I am looking forward to connecting with you all and forwarding the great and necessary work of developing, enriching and empowering hearts and minds🌸
.
.
.
Text (667)401-7585 or email me admin@afrogoddess.net for registration .
.
.
#astrology #astrological #carljung #carljungquotes #psychology #socialwork #educators #wellness #sacredsciences #taai #afroindigenous #selfcare #womenswellness #professionaldevelopment #astro #afrogoddessmagick #astrologyclass #indigenousart #baltimoretherapist #baltimorecounseling #baltimorepsychologists #divinefeminine #ancientcustoms #afrogoddessawakenings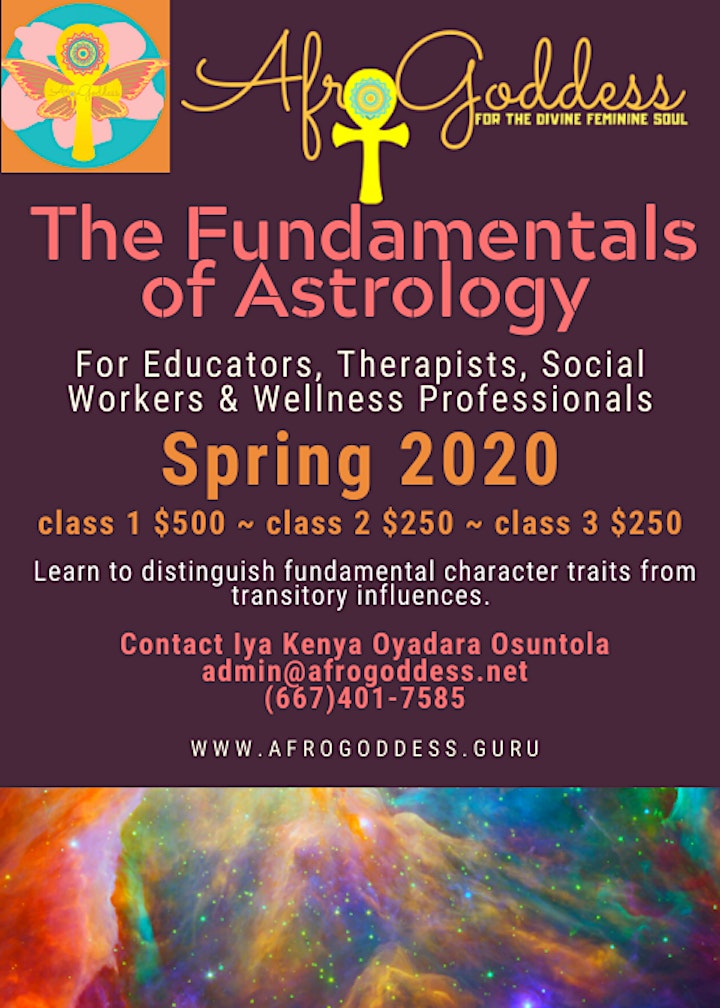 Organizer of Fundamentals of Astrology for Educatòrs &Therapeutic Wellness Professional