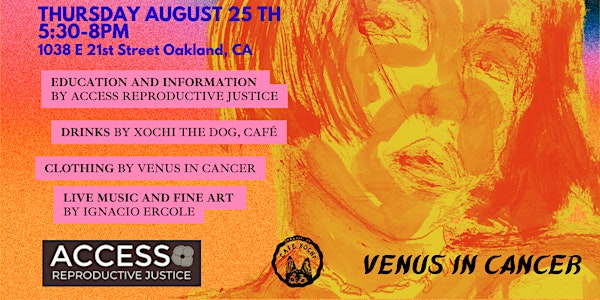 Fund Abortion, Build Power.
Fund Abortion and Build Power with ACCESS Reproductive Justice and Venus in Cancer on August 25th from 5:30-8pm at Xochi the Dog, Café.
When and where
Location
Xochi the Dog Cafe 1038 East 21st Street Oakland, CA 94606
About this event
Join ACCESS Reproductive Justice, Xochi the Dog, Café, Venus in Cancer to Fund Abortion and Build Power.
When: August 25th, 2022 at 5:30-8pm
Where: Xochi the Dog, Café 1038 E 21st Street, Oakland, California
Education and information by ACCESS Reproductive Justice
Drinks by Xochi the Dog, Café
Clothing by Venus in Cancer
Live DJ set and fine art by Ignacio Ercole
A percentage of proceeds from this event will go towards ACCESS Reproductive Justice.
Bring your family, friends, and community!
COVID-19 vaccination cards and eventbrite registrations are required to attend the event.
Can't attend but want to support reproductive justice in California? Give to ACCESS Reproductive Justice here.
About the organizers:
ACCESS Reproductive Justice removes barriers to sexual and reproductive health care and builds the power of Californians to demand health, justice, and dignity.
Most people believe that reproductive health care is easy to get in California because we benefit from some of the strongest reproductive rights in the nation. Medi-Cal covers prenatal care and abortion. Legally, there are few restrictions on abortion and family planning services. Yet, thousands of people in California still find it nearly impossible to act on these rights or obtain reproductive health care without a struggle. Reproductive rights are meaningless when you don't know where to get birth control, no abortion provider accepts your insurance, you are afraid to seek prenatal care because of your immigration status, or the closest clinic is hours from your home.
At ACCESS Reproductive Justice, we are building toward a future where all people in California have the freedom and resources necessary to make empowered and dignified decisions about their sexual and reproductive health, including the decision to have an abortion without shame or stigma and regardless of their race, religion, immigration, or economic status.
Xochi the Dog, Café is a beautifully crafted space in the heart of the Bella Vista neighborhood that sits east of Lake Merrit in Oakland, California. Enjoy the garden, with your favorite coffee drink! We also serve pastries, empanadas, beer, wine, and more!
Venus in Cancer is a queer garment brand inspired by playfulness and body positivity. The intention of Venus in Cancer is to support people with creating experiences that are affirming, pleasurable, and joyful. We do this through original garments and artwork, information, and resources, and building community around activism, sexual and reproductive health, and all things queer. Venus in Cancer is queer and Latinx created and owned. We are based in Oakland, California which sits on unceded Huchiun territory of the Lisjan (Ohlone) people.
Ignacio Ercole (they, them) is an Argentine vegan queer artist, psychologist, mindfulness trainer, and the Art Director and Co-Founder at Venus in Cancer. Their work is characterized for the mixture of chaos and balance depicting human figures, symbols and abstract textures using the combination of different mediums like acrylics, oil paint, watercolors, charcoal and spray paint. To view and purchase more of Ignacio's art, visit ignacioercole.art. In addition to exploring visual and sound art, Ignacio has also been trained as a psychodrama facilitator and contextual and mindfulness-based therapy psychologist. They teach mindfulness programs for general audiences and for educators, including mindful art classes and mindful eating sessions. Ignacio is currently the art director of the Center for Creative Inquiry and the designer for Mangalam Research Center.