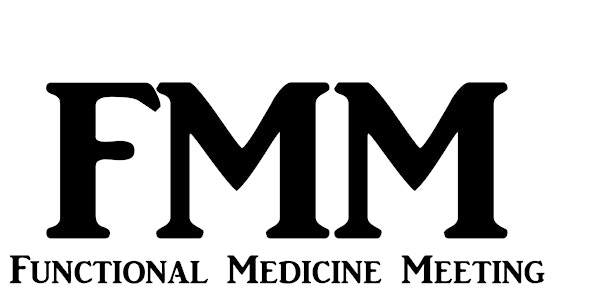 Functional Medicine Meeting Dallas - Lab Mastery Series Part 5 & 6 Webinar
Join us for the conclusion of the FMM Laboratory Mastery Series Part 5 & 6 webinar. Register today to become a true lab master!
About this event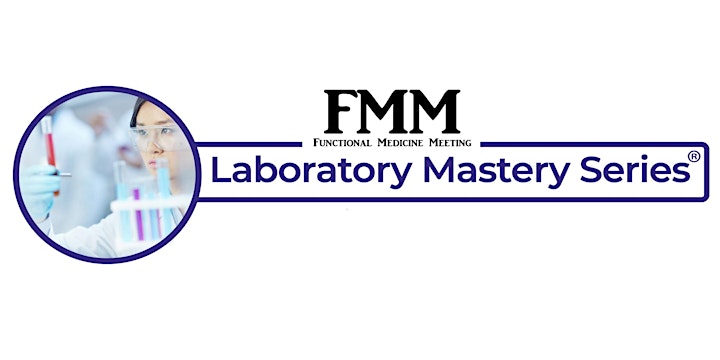 Dr. Brandon Brock and Dr. Cheryl Burdette will be teaching all weekend delivering Part 5 & 6 of our Laboratory Mastery Series. The following topics will be covered: adrenal function, the reproductive system, thyroid function, Lyme/viruses including COV2-SARS along with pediatrics (ADD/PANDAS/Touretts, OCD and more). This is surely an event that is not to be missed!
10 CE credit hours are APPROVED for chiropractors and naturopaths virtually nationwide! Please email welltechllc@gmail.com if you'd like to confirm your state has been approved.
**********Please note due to COVID-19 this conference is now in June and will be an online live streamed webinar**********
Also, it is not necessary to have attended Laboratory Mastery Series Part 1-4 to take this course. But know that if you'd like to access Part 1-4, this is available via video for purchase on our website www.FunctionalMedicineMeeting.com.
As this is now a national webinar, please note the schedule below is central daylight savings time.
Saturday June 20th, 2020
10:00 am (CDT) – 12:00 pm (CDT) Dr. Brandon Brock
12:00 pm (CDT) – 12:30 pm (CDT) Break
12:30 pm (CDT) – 2:30 pm (CDT) Dr. Brandon Brock
2:30 pm (CDT) – 2:40 pm (CDT) Break
2:40 pm (CDT) – 3:40 pm (CDT) Dr. Brandon Brock
3:45 pm (CDT) – 5:50 pm (CDT) Dr. Cheryl Burdette
Sunday June 21st, 2020
10:00 am (CDT) – 12:00 pm (CDT) Dr. Cheryl Burdette
12:00 pm (CDT)– 12:10 pm (CDT) Break
12:10 pm (CDT) – 1:10 pm (CDT) Dr. Cheryl Burdette
Program Overview
Explanation of hormones and laboratory analysis via blood, saliva, and urine is a vital component of healthcare that is imperative to ensure accurate and appropriate diagnosis, management and treatment of patients.
This program is designed to teach students from all practice types and styles to utilize this tool within their scope and means. Learning disease patterns, severity and ongoing outcome assessment will aid the practitioner when it comes to the utilization of nutrition, diet, exercise, medication, referral needs and outside diagnostic necessity.
This program over its continuum will allow each practitioner the chance to gain proficiency in reading, understanding, and the application of lab studies for baseline analysis and specific targeting of disease and pathological physiologic manifestation related to hormones.
A Whole Systems Synthesis to The Jagged Edges of Stress, As it relates to the Endocrine System
Three Part Analysis: Adrenal, Reproductive and Thyroid
No one denies that stress plays a major role in our health. Yet it is probably the least talked about component of care, especially relative to its known impact. From psoriasis, to IBS, to cancer stress is well researched player in the development of pathology. Sources are diverse, but the ultimate result of stress can be measured and assessed at key target endpoints. In the lecture we will examine the impact of stress on our systems from cardiovascular, endocrine and immune and how this influences pathology. We will review the interconnections between adrenal function, reproductive hormones and thyroid.
We will also review extensive research demonstrating the impact of stress on mitochondria and telomeres demonstrating its impact right down to the cell. While the matrix of stress is vast, there are focal points that help to manage its complexities. We will examine how the molecular similarities of stress manifest in common conditions of aging. We will review clinical protocols to decrease an environment of stress from emotional, physical and biochemical. There are practical common tools that manage the extremes of stress and are imperative, yet all too often overlooked, in our journey with health. Understanding the interrelationship of adrenals, thyroid and reproductive hormones helps in our ability to manage their interwoven relationships.
I. Sources of Stress
A. Emotional/Mental
B. Physical
1. Pollution
2. Infection
3. Sensory
C. Metabolic
D. Acute vs. Chronic
II. Cellular Consequences of Stress
A. Inflammasomes-from gut to mitochondria
B. Cell Defense Response
C. Inflammaging from the gut-from probiotics to Zonulin
III. Systems Impact of Stress
A. Immune
B. Cardiovascular
C. Endocrine and Hormone Disorders
1. Reproductive hormones
a. Estrogen
b. Testosterone
c. Progesterone
d. Thyroid
IV. Clinical management of Stress
A. Antioxidant Response Elements-flipping the switch in response to stress
B. Leaky gut therapies-Reversing the Inflammaging from the gut
C. Endocrine therapy from the intra to extracellular- a hormonal support
D. Shifting the paradigm of patient care-the individuality of the molecular matrix
E. Thyroid management
Learning Objectives:
Part 1: Adrenal Management
• To review cell signaling and pathology as it relates to stress and stress hormones
• Examine the literature as it applies to pathologies in the area of cardiovascular disease, things neurologic and cancer through the lens of stress
Evaluate methodologies for evaluating the impact of stress on the body and how to monitor efficacy of treatments applied to a physiologic response to stress
Learning Objectives Part 2: Reproductive Hormone Management
1. The listener will learn key concepts in hormone management in terms of managing an oxidative environment that contributes not only to menopausal symptoms but cancer risk.
2. We will review common markers of oxidative stress and their relationship to estrogen metabolism, menopausal symptoms, and how to treat.
Learning Objectives Part 3: Thyroid management
Objectives:
• Understanding thyroid from a functional approach
• Understanding how metabolic endotoxins from the gut interact with thyroid and cause dysregulation with production and receptor function
• Examine underlying connections of oxidative stress and how this creates
Clinical Management of Infectious Disease: The impact on the Nervous System and Therapeutic Interventions
• Effective Methods for Alternative and Medical Management of Infectious Disease• Mechanisms of infectious Disease in PANDAS/PANS,
Neurodegeneration, Autoimmune Triggers and Chronic Disease-
The Evaluation, the thought process and when/ how to order labs
• Neuro Rehab for the patient with infectious disease-expectations and pitfalls
• Supporting your patients with Lyme Disease- co- managing,expectations on evaluation and prognoses
Condition specific protocols and nutritional support for:• Pathogens and Neurodegeneration• Clinical Approach to PANDAS/PANS- including examination and therapeutic intervention• Intestinal Permeability• Common gut pathogens, viral pathogens, bacterial pathogens• Lyme disease and co-infections• Oral pathogens- what lab tests to run• Lab interpretation and logistics of running labs
And much more...