Event Information
Refund policy
Refunds up to 30 days before event
8 week online workshop to cultivate your creativity, deepen your understanding of harmony and help you to enjoy the process of making music.
About this event
Led by composer, performer and producer Juan Pablo de Lucca, "Functional Harmony 1" explores the tools composers and musicians use to provide you with a powerful foundation for your musical journey.
With this workshop you will get a proven teaching method that will ensure you make meaningful progress week after week, and an 80 page text book with worksheets and musical examples, from The Beatles, to Moby and Radiohead. 
So whether you're an aspiring musician, producer, or a singer-songwriter who's unhappy with your musical progress, "Functional Harmony 1" will provide a powerful foundation for your personal musical journey.
Each class has a maximum of eight participants, so book now to secure your place.
By the end of this workshop, you will be able to:
transpose an idea, song or sample to any key.
navigate through all the different major and minor tonalities.
communicate better with other musicians.
understand the principles of tension and release in the tonal system.
develop your ear to recognise intervals, chords and scales.
Who is this workshop for?
Self-taught musicians who are ready to deepen their understanding of music.
Music students who want to build a solid theoretical foundation and understanding.
Singers who want to expand on their musical knowledge.
Producers and songwriters who are looking for new tools, techniques and inspiration.
Workshop Overview
80+ page textbook with worksheets. Theory, exercises and musical examples from all genres and eras.
A proven learning roadmap. That will ensure you make meaningful progress week after week.
16+ hours of professional education. Each class has a maximum of eight participants.
The Programme
Most difficulties people have when learning music theory come from the boring, outdated and overly-theoretical methods of instruction. This approach leaves you in a rut and unhappy with your lack of progress.
This workshop is not another entertaining video that might include some great tips and tricks but doesn't have any clear direction or larger plan behind it.
"Functional Harmony 1" is a step-by-step system that builds upon itself, challenging you at each point along the way to make real progress in harmony knowledge.
Module 1: Intervals and Functions.
Module 2: Scales and Degrees.
Module 3: Major and Minor Triads.
Module 4: Major Keys.
Module 5: Chord Progressions.
Module 6: Song Form.
Module 7: Minor Keys.
Module 8: Relative Systems, Major and Minor together.
More info https://www.thecomposersworkshop.com/
Refund policy
If you find by the halfway point of the course that the workshop is not for you, the full amount will be refunded, no questions asked.
Have a look at what the workshop looks like:
80 page textbook with worksheets: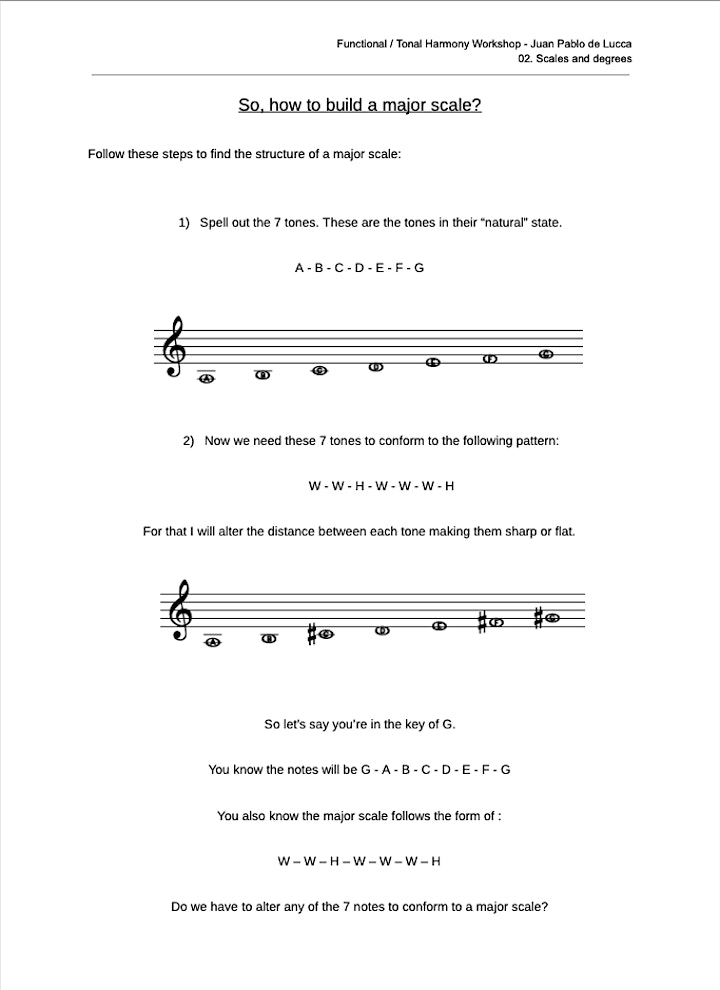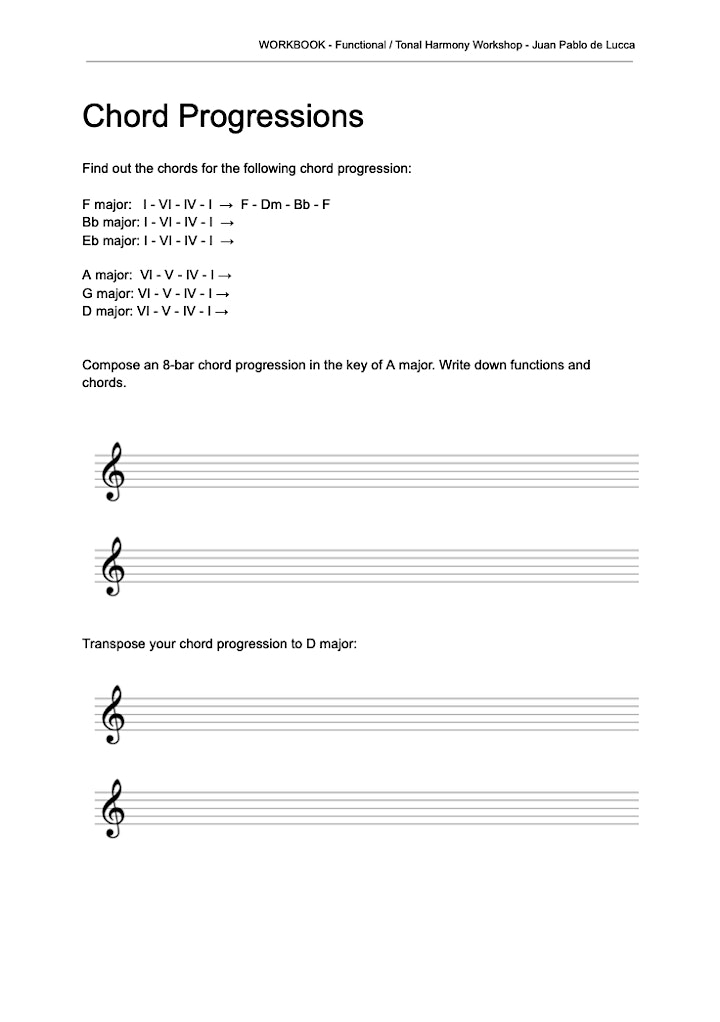 Date and time
Location
Refund policy
Refunds up to 30 days before event