Description
The Functional Forum Meetup Chicago chapter is excited to welcome Dr. Tom O'Bryan to our meetup this month!
About Dr. Tom
Dr. Thomas O'Bryan, DC, CCN, DACBN
When it comes to getting healthy, Dr. Tom O'Bryan's goal for you is 'Making It Easy to Do the Right Thing'. As an internationally recognized, admired and compassionate speaker focusing on food sensitivities, environmental toxins, and the development of autoimmune diseases, Dr. Tom's audiences discover that it is through a clear understanding of how you got to where you are, that you and your Dr. can figure out what it will take to get you well.
In November 2016, Dr. O'Bryan released Betrayal: The Autoimmune Disease Solution They're Not Telling You, an investigation into why our immune system, designed to protect us, begins attacking our own tissue (autoimmunity). Currently, over 500,000 people worldwide have watched the Docuseries. www.betrayaldocumentary.com
Dr. O'Bryan is considered a 'Sherlock Holmes' for chronic disease and teaches that recognizing and addressing the underlying mechanisms that activate an immune response is the map to the highway towards better health. He holds teaching Faculty positions with the Institute for Functional Medicine and the National University of Health Sciences. He has trained and certified tens of thousands of practitioners around the world in advanced understanding of the impact of wheat sensitivity and the development of individual autoimmune diseases.
He is the founder of www.theDr.com and the visionary behind 'The Gluten Summit - A Grain of Truth', bringing together 29 of the world's experts on the gluten connection to diseases, disorders, and a wide-range of symptoms and ages. You can find this info at www.theglutensummit.com.

His 2016 ground-breaking book, winner of the National Book Award and ranked #1 in several categories on Amazon.com, 'The Autoimmune Fix' outlines the step-by-step development of degenerative diseases and gives the tools to identify our dis-ease process years before the symptoms are obvious and how to turn your health around, one step at a time.
Dr. Tom will be presenting:
The Autoimmune Spectrum: Recognizing the Early Development of Autoimmune Diseases and a Comprehensive Approach to Arresting, Stabilizing and in Some Cases Reversing Future Progression
Autoimmune diseases are listed as the third leading cause of morbidity and mortality in the industrialized world. That means it's in our offices every day. The number of people diagnosed with an autoimmune disease is increasing exponentially in the world today. Estimates are that anywhere from 3 to 7 out of every 10 new patients coming into your office are suffering with an autoimmune mechanism (whether it has progressed into an autoimmune pathology or not). The volume of information now of the underlying mechanisms that set the stage and contribute to the development of autoimmune disease is overwhelming.
Without recognizing and addressing the underlying mechanisms triggering the presenting complaints, the Practitioner may be proverbially 'chasing the tail' of the pathology with temporary symptom relief.
This Presentation will explore the triggers of the immune response, and the pathway of arresting, stabilizing and in some cases reversing the autoimmune pathology.
Agenda
6:30-7:00 Introductions, Food, & Networking
7:00-7:45 Presentation by Dr. Tom O'Bryan
7:45-8:30 Networking + Optional Book Signing
You can purchase a book on Amazon ahead of time for $15 http://a.co/9uONSUj or purchase on site for $25 via PayPal to karen@thedr.com
PARKING:
There is parking across the street for $4
Why Attend a Meetup?
One of the biggest frustrations we hear from practitioners who practice the type of medicine that you do, is that you feel isolated from the rest of their medical community who don't "get" the true value of what you offer. The purpose of the Functional Forum local meetup groups is to help you to develop a community of practitioners in your area who "get it", to build your referral network, add value to your practice, your community, and the movement at large.

Anyone can tune into our Functional Forum event via livestream. What really excites us is when our events create dialogue between practitioners that are sharing best practices, asking tough questions, and helping each other to create the greatest impact with their patients and communities. It gives you the opportunity to not only network but also, keep your finger on the pulse of what's happening in your own healthcare community.
---
Meetup Sponsors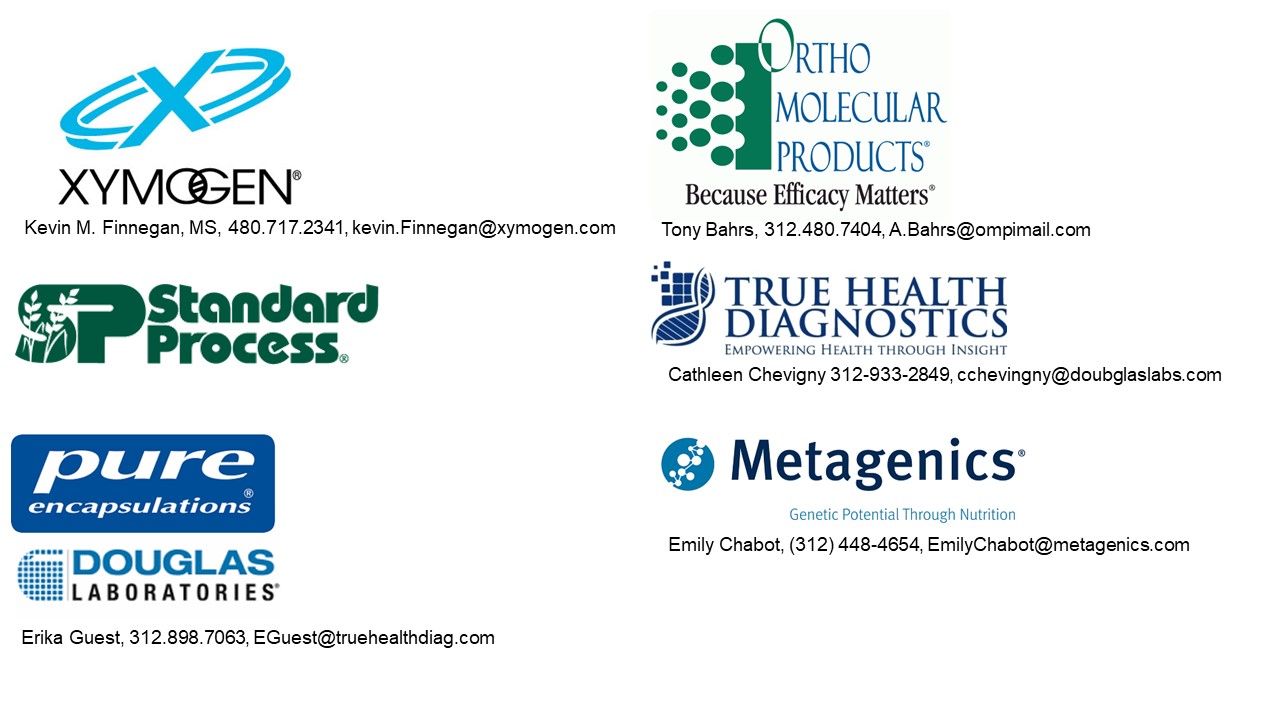 As part of our educational mission, the Evolution of Medicine will also email you resources on clinical, practice development and other relevant topics for practitioners in functional integrative medicine. As a reminder, you can always adjust email frequency in the footer of each email.