Event Information
Location
Two locations
Manassas and Fredericksburg
VA
Description

VA Department of Juvenile Justice, Evidence-based Associates and Camelot Community Care are excited to announce the launch of two FUNCTIONAL FAMILY THERAPY TEAMS within your community.
---
Manassas Launch: Monday, November 20, 2017 9AM-12PM
Location: James J. McCoart Building's Board Chambers 1 County Complex Ct. Woodbridge, VA 22192
Serving CSUs 18, 20L, 31 and portions of CSU 19 and 20W (serving Arlington, Alexandria, Fairfax, Prince William, Woodbridge, Loudoun, Fauquier, Dale City, Dumfries, and Manassas)
Fredericksburg Launch:

Wednesday, November 29, 2017 9AM-12PM
Location: Marshall Center 8800 Courthouse Rd, Spotsylvania, VA 22553
Serving CSU 15 and CSU 16 (serving City of Fredericksburg and the counties of Caroline, Essex, Hanover, King George, Lancaster, Northumberland, Richmond, Spotsylvania, Stafford, Westmoreland, Culpeper, Madison, Orange)
---
FFT is an empirically grounded, well-documented and highly successful family intervention program for court involved youth with very challenging behaviors such as conduct disorder, violent acting-out, and substance abuse. FFT has been applied to a wide range of problem youth and their families in various multi-ethnic, multicultural contexts. While FFT targets youth aged 11-18, younger siblings of referred adolescents often become part of the intervention process. Intervention ranges from, on average, 8 to 12 one-hour sessions for mild cases and up to 30 sessions of direct service for more difficult situations. In most programs sessions are spread over a three-month period. FFT has been conducted both in clinic settings as an outpatient therapy and as a home-based model.
As a stakeholder and community partner you are invited to attend the FFT Launch to:
Learn more about the FFT Clinical Model,

Identify Appropriate Referrals (inclusionary/ exclusionary criteria), and

Meet the Camelot Community Care FFT Team.
---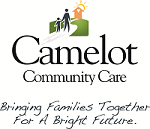 Date and Time
Location
Two locations
Manassas and Fredericksburg
VA