Description
Join Melissa Nohr, certified health coach, to learn how to interpret the most frequent lab work and what nutrition and supplement suggestions would be best for you based on your health problems and lab work.
In this Workshop You Will Learn About:
The Healing Power of Nutrition and Proper Supplementation
Lab Work Interpretation that Your Doctor is Not Giving You
Functional Anemia, Thyroid Testing, Inflammatory Levels
How to Find Hidden Nutritional Deficiencies and More
We hope you will be able to join us for this great learning experience and our mission is to help you take back control of your health!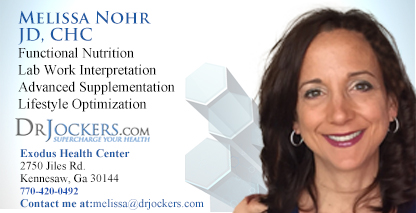 About Melissa Nohr JD, CHC
Melissa is a Board Certified Holistic Health Practitioner, researcher and writer, attorney, wife, and mother of four.
After ten years working as a litigation attorney, Melissa pursued her interest in health and nutrition by attending the Institute for Integrative Nutrition in New York. At IIN, Melissa learned from the world's foremost nutrition and personal development experts. For the past five years, Melissa has continued her education in holistic health and nutrition with hundreds of hours of continued study and completion of the Institute for Nutritional Leadership.
Melissa has worked with numerous individuals in developing and maintaining nutrition and lifestyle changes to meet their health goals. At Exodus Health Center, she supports clients in figuring out what their personal health and wellness issues are and how these issues affect them holistically. She assists clients with developing nutrition and lifestyle strategies to overcome these issues and guides them through the process.
Melissa has a passion for educating people and gives interactive presentations on nutrition and health. She leads grocery-shopping tours and presents workshops at Exodus.
Melissa is a prolific researcher and writer on a variety of health and wellness topics. Her writing has been featured on The Truth about Cancer, Cancer Tutor, and DrJockers.com.