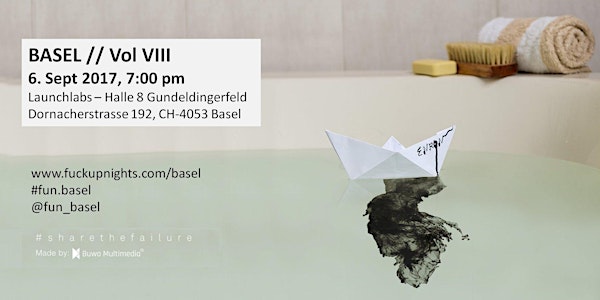 FUN.Basel #8
When and where
Location
Launchlabs Halle 8 Gundeldingerfeld Dornacherstrasse 192 4053 Basel Switzerland
Description
FuckUp Nights – FUNs - are a global movement born 2012 in Mexico city, today active in close to 200 cities in almost 70 countries where stories of failed businesses and projects are told, questioned and celebrated!

The exceptional crowd of people in Basel are definitely part of this cultural revolution. A speaker feedback confirms:
"The event was very exciting. People who are open to learn and curious for the new. They are also not shy to talk about what did not work, which makes this a unique crowd in a world of bragging successes."

Join us for the FUN.Basel event!
- - - - - - - - - - - - - - - - - - - - - - - - -
Die FuckUp Nights - die FUNs - sind eine globale Bewegung, die 2012 in Mexiko geboren wurde. Heute werden Geschichten über gescheiterte Geschäftsversuche und Projekte in ca. 200 Städten und 70 Ländern erzählt, hinterfragt und zelebriert!

Diese kulturelle Revolution spricht das besonders vielfältige und weltoffene Basler Publikum an. Ein Sprecher bestätigt:
"Der Abend war sehr spannend. Leute, die offen und bereit sind, etwas zu lernen und neugierig auf das Neue sind. Sie scheuen sich nicht davor, über etwas zu reden, das daneben ging. Es macht dieses Publikum einzigartig in einer Welt, die angeberische Erfolge feiert."
Besuchen Sie unsere FUN.Basel. Wir freuen uns auf Sie!
- - - - - - - - - - - - - - - - - - - - - - - - -
Les FuckUp Nights – les FUNs – sont néesà Mexico en 2012. Ce mouvement est entre temps devenu mondial. Aujourd'hui, des histoires d'erreurs et d'échecs professionnels sont racontées, discutées et célébrées dans plus de 200 villes et 70 pays.

Cette révolution culturelle intéresse le public bâlois composé d'une variété exceptionnelle de groupes très différents. C'est ce que confirme l'un des intervenants:
"La soirée était vraiment passionnante. Des gens ouverts, prêts à apprendre et curieux de nouveauté. Ils n'ont pas peur de parler de ce qui n'a pas marché. C'est ce qui fait le caractère unique de ce public, dans un monde où l'on célèbre surtout les succès retentissants "
Rejoignez-nous lors d'une FUN.Basel!
Jutta Jerlich & Isabelle Valibus
Because errors are on yourway to success
Weil Fehler zum Erfolg führen
Parce que l'erreur est source de succès
www.fuckupnights.com/basel
@fun_basel
#fun.basel
#sharethefailure