Description
Come on out and have an amazingly fun time at this social, cooking class experience. Meet lots of other fun, friendly people while learning to make a fantastic & delicious dish! Couples and singles are welcome! Typically about 65% of the attendees are single so it's a great place to network and who knows... maybe even meet that special someone!
/// QUICK NOTE: THIS EVENT IS VERY POPULAR AND WILL VERY LIKELY SELL OUT BY EVENT TIME SO WE RECOMMEND GRABBING YOUR TICKETS AS SOON AS POSSIBLE ///
WHAT YOU'LL BE COOKING...
GNOCCHI WITH TOMATO SAUCE AND BURNT BUTTER & SAGE!
Done right, these pillow-soft dumplings melt in your mouth and vanish off the plate.
In this fun and engaging class, you will learn the tricks on how to make the classic dough recipe from scratch along with two classically Italian easy sauces. The first sauce is with tomato, garlic, parmesan cheese, and fresh basil. The second sauce is with burnt butter and sage. You will also learn all the techniques you need to ditch gluey pre-packaged gnocchi for good.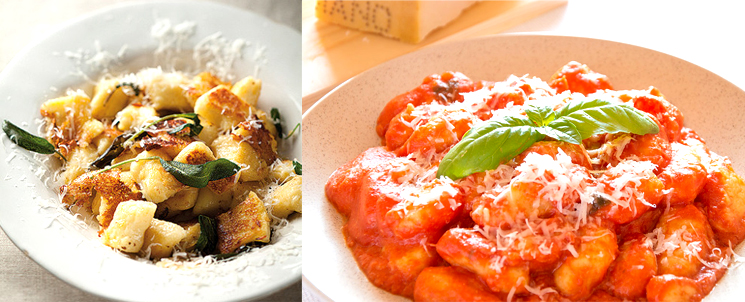 No experience is required! We provide all the equipment and ingredients, which are easy to find at local markets if you don't already have them in your home kitchen. It's a fun and casual instructive class. An opportunity to meet other like-minded people. This class is designed to be just as fun for the cooking enthusiast who wants to be a part of every step as it is for the first-timer who's happier observing and assisting (or taste testing).
Oh, and of course after you make the meal you'll sit and enjoy the wonderful dinner that you prepared and have time to relax and discuss the food with the group over some cocktails!
If possible, please arrive 10 minutes early to check in. Drinks are available for purchase from the venue. Duration is 2 hours. You will work with other attendees in groups. The class includes your meal.
About the Instructor:
Maria is a Gourmand award-winning author, health & wellness coach, intuitive chef, motivational speaker and founder of Sydney, Australia's first exclusively Greek cooking school.
After much success in Australia Maria set her sights on expanding to the United States. In 2014, Maria moved to New York City. In the USA she has been featured in top media including The New York Times, The Today Show, PBS, Fox 5 – Good Day New York and Vogue; she has instructed cooking classes at prestigious venues including The Natural Gourmet Institute, Sur La Table, Williams Sonoma and Haven's Kitchen; she is a food and health blogger for The Huffington Post, Thrive Global, and Mind Body Green.
She is the author of three books – My Greek Family Table, Cooking & Eating Wisdom for Better Health, and Greekalicious Feast. In May 2017 Maria released her fourth book MY GREEK FAMILY TABLE. In addition to demonstrating that the foods of ancient Greece are as relevant – and delicious – as ever, Maria places and emphasis on eating for health, healing and well-being.