Description
HOW TO LIVE AN AMAZING LIFE NO MATTER WHAT.
Every moment, you're either creating something completely new and original that makes the world a better place, OR you're re-creating the past.
You don't have to be an artist to be creative.
Every moment, you're either creating OR re-creating.
Your mind re-creates the past.
Your heart, your body, co-creates a completely new present moment every moment.
Moments of joy, appreciation and utter awe you're moved to tears.
Words of Beauty.
Poetry in your very movements.
New inventions.
Liberated magical connections we've never felt before.
A love that is so intense it just wants to keep pouring out new beautiful creations...
You ARE this Love, this Co-Creative Joy, this intensity...
You can either trust It, surrender to It and sky-dive into It, free-falling, yelling, "Hallelujah!" or "WOO HOO!!!"
OR you can stay stuck in what happened yesterday, or your beliefs about who you were. And re-create everything you don't want.
Everything you believe about yourself or the past is who you were.
Everything that is pure present moment awareness constantly co-creating beauty with the world is who you ARE right NOW.
Come to a workshop on living life like this, in a constant FLOW state
We will also study the ground-breaking book "The Surrender Experiment" by Michael A. SInger. He is famous for authoring "The Untethered Soul" which landed him on Oprah, and became a New York Times best-seller.

His latest book, "The Surrender Experiment", published in 2015, tells the remarkable story of how his radical experiment in living led him to being the leader of a thriving spiritual community on more than 600 acres of pristine forest and meadows in Florida, a cutting-edge software package that transformed the medical practice management industry, a billion-dollar company whose achievements are archived in the Smithsonian Institution, a book that became a New York Times bestseller and an Oprah favorite, and so much more!
We will also go through a different way to quiet the mind and access the free creative resourceful peaceful part of you every week. For example, see the picture below >>>
Meditation is not the only way.
If you find meditation difficult, or if you wish to explore new ways of Being and Quieting the Mind, this class is for you!
We will help you discover what works best for you!
About the Facilitator, Kundan Chhabra: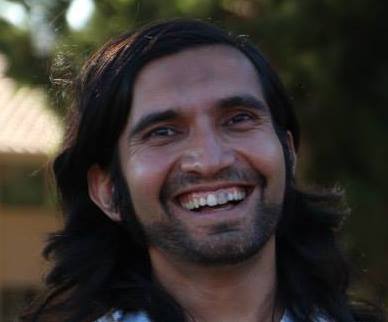 Kundan Chhabra provides Emotional Alchemy: The Art of Transforming your Emotional Pain into fuel for your Passion and Life Purpose. He does this through "Breakthrough Awakening", the Consciousness Technology he invented that takes you through at least the first 4 Levels out of the 6 Levels of Knowing Yourself.
He helps you discover the messages your Emotional Pain is telling you, so that you no longer have to feel them. He was able to make these discoveries and inventions through overcoming his own struggles with depression, bad relationships and suicidal thoughts.
He has also been published in "Love Like God: Embracing Unconditional Love", endorsed by Chicken Soup for the Soul Co-Founder Mark Victor Hansen, and co-written with luminaries from around the world such as world-renowned singer Deva Premal.
Kundan'swork has helped save marriages, end toxic relationships, and inspired his clients to lead more fulfilled lives with healthier connections of all kinds.
He is also the founder and organizer of thE Meetup group: Spiritual and Tantric Dating Parties with over 400 members so far. He has helped organize over 100 Meetups so far
Kundan read the book, "The Surrender Experiment" in July of 2015. This inspired him to start his own Surrender Experiment: 30 Days of Surrender: Creativity in Service of Life! This is all documented on video. This led him to create an entire site just for this project. Click here to go to the site and learn more. You can also read this article here that he wrote about it.
INVESTMENT IN YOURSELF:
$10 if you buy a ticket online at Eventbrite.
$40 at the door.
Click here to get your ticket at Eventbrite.