Description
This event is rain ☔️ or shine ☀️! Getting a little wet ain't never hurt nobody.
n a 90's kinda world, I'm glad I've got my FRIENDS! Keep ya head up, what? Keep your head up, that's right… With our FUN Crew standing to our left and our right… True blue, it's tight like glue!
Somebody cue the Living Single intro music, we are stepping back into the 90's this Halloween weekend!
If you're receiving this email, you are already one step closer to the FUN that awaits. Tomorrow, you'll be mobbing out with the Crew and ready to crawl to some black owned Brooklyn hot spots! Throw on your best impressions of 90's sitcoms and cartoon as we stroll through the Brooklyn streets, stopping to enjoy some music, discounted drinks, eats and treats.
As we crawl, we only have two rules. 1. Safety is paramount. Please ensure that you refrain from drinking alcohol in open containers as we move through the streets. Also, remember this is an 8 hour crawl, so pace yourselves. It's not a race but a FUN filled marathon. Rule #2, we're all FRIENDS. Great vibes only!!! Look out for each other, and let's show the world how the generation that grew up through the 90s does it!
While we'll be running through Brooklyn as a crew, remember the reason for the season. We're on a mission to shed light on and support black-owned businesses in our community. Please try to support each bar, and note that cash is preferred for faster transactions but all participating bars will accept credit and debit.
Now that we've addressed the housekeeping, peep the FUN-O-WEEN Bar Crawl stops as follows:
Little Donkey 3PM - 5PM W/ @ErnzWorld located at 951 Dean St, Brooklyn, NY 11238
Ode to Babel 5:15PM - 7PM W/ @AkaMoniki located at 772 Dean St, Brooklyn, NY 11238
Bleachers 7:10PM - 9:10PM W/ @Khalil.Livinproof located at 240 Flatbush Ave, Brooklyn, NY 11217
333 Lounge 9:15PM - 11PM W/ @GeniusinHD 333 Flatbush Ave, Brooklyn, NY 11217
Please note that the FUN starts promptly at 3PM at 951 Dean St, Brooklyn, NY 11238. Here, we'll meet up, snap some pics, and handle the distribution of your wrist bands and branded cups. Once you've received all your FwF official crawl materials, it's time to hit the bar! As we are expecting 200 FRIENDS, we strongly encourage an early arrival.
As this is a moving event, please be advised that if you miss one stop you can still join up from any point. We totally understand that things come up, so you are free to meet us along the way at any of the stops. We'll have a crew member on-site at each stop available to get you set up once you arrive. Again, we do stress early arrival for a ton of reasons, but most notably, so we can turn up the FUN as a big untied Crew from the very beginning.
FRIENDLY REMINDER: this is a themed event. We want you to pull up in your best cartoon/sitcom character impersonation. Whether you tryna bring the array of Martin characters to life or wanna rep for the Proud Family, just bring your creative energy. Whole show cast ensembles are strongly encouraged, I mean what's more FUN than transforming into the Fresh Prince cast with your FRIENDS! We'll have a photographer on-hand capturing all your dope looks.
Last but not least, please be sure to use the FUN-O-WEEN Snap filter at each bar & along the way as we crawl. Use #FUNOWEEN #fwfnyc @fwfnyc when sharing photos.
See you soon FRIENDS!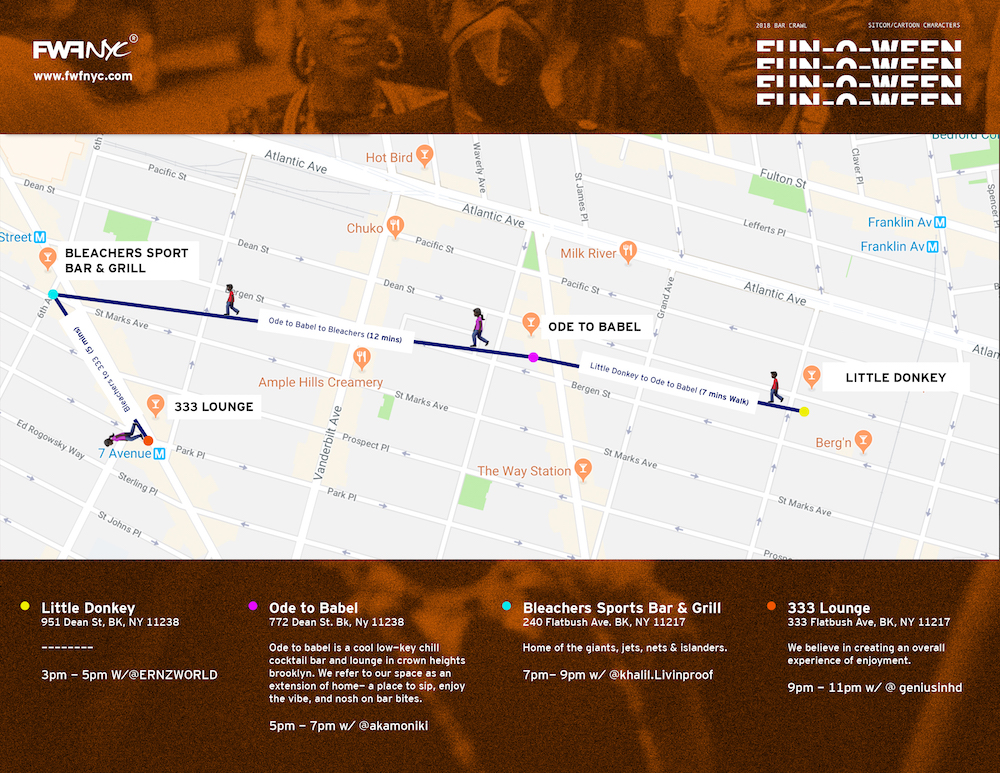 FAQs
Are there ID or minimum age requirements to enter the event?
21 + (Valid ID)
Location ?
We'll start mobbing through the streets hitting up spots in Crown Heights, Bed Stuy, and Prospect Heights. Exact bars & more details will be in your inbox 48hrs prior to the crawl.
Theme/Attire ?
Tap into your inner child by coming as your favorite childhood cartoon or represent a character from one of any of the dope 90s sitcoms. Whether you wanna be Hey Arnold, Pepper Ann, Moesha, or the Fresh Prince its up to you! Just be creative and bring a FUN flare to your costume.
What can I bring into the event?
Can: A smile & FUN FRIENDS only. Can't: Outside food or drinks & bad vibes.
How can I contact the organizer with any questions?
info@fwfnyc.com
What's the refund policy?
No refunds.