Description
DAY OF DETAILS; FOR STARTERS THIS EVENT IS RAIN OR SHINE...
Are you ready for some FUN?!
No need to fear, no need to fright, the time is upon us for the annual FUN-O-WEEN delight.
If you're getting this email, you've already done something right, and you're ready to crawl with the Crew from the day into the night! TODAY, we're rolling "Mobb Deep" (pun intended) through the Brooklyn streets, stopping to enjoy some music, discounted drinks, eats and treats.
As we crawl, we only have two rules. 1. Safety is paramount. Please ensure that you refrain from drinking alcohol in open containers as we move through the streets. Also, remember this is an 8 hour crawl, so pace yourselves. It's not a race but a FUN filled marathon. Rule #2, we're all FRIENDS. Great vibes only!!! Look out for each other, and let's show the world how our hip-hop Crew can spread love the Brooklyn way!
While we'll be running through Brooklyn as a crew, remember the reason for the season. We're on a mission to shed light on and support black-owned businesses in our community. Please try to support each bar, and note that cash is preferred for faster transactions but all participating bars will accept credit and debit.
Now down to the nitty gritty, the FUN-O-WEEN Bar Crawl stops are as follows:
Ode To Babel 2pm - 3:45pm W/ @ErnzWorld located at 772 Dean St. Brooklyn, NY 11238
BK 9 4pm - 6pm W/ @GeniusinHd located at 62 5th Ave, Brooklyn, NY 11217
Bleachers 4pm -6pm W/ @DjHiFashion located at 240 Flatbush Ave, Brooklyn, NY 11217
333 Lounge 6:05pm - 7:45pm W/ @Khalil.livinproof 333 Flatbush Ave, Brooklyn, NY 11217
Dean Cafe Bar 8pm - 10pm W/ @DjCDevone 951 Dean St, Brooklyn, 11238
Please note that the FUN starts promptly at 2pm at Ode to Babel. Our first location is where the turn up will commence and where you will receive your wristbands, branded cups & maps. Once you've received all your FwF official crawl materials, it's time to hit the bar! As we are expecting 200 + FRIENDS, we strongly encourage an early arrival. Additionally, we'll be pouring up FREE shots for our first 50 FRIENDS. While the first stop isn't mandatory, it is strongly advised to link there to expedite your check-in process.
We totally understand that things come up, so you are free to meet us along the way at any of the stops. However, please note that stop 2 on the crawl is happening simultaneously at two locations, BK9 & Bleachers so you can pick one & meet us there. No need to worry, both spots will be lit and will have similar vibes. They are also located two blocks away from each other. If you arrive to stop one (Ode to Babel) you will know which bar you're assigned to for stop 2 by the color of your wristband. In the case that you're split from your crew of FRIENDS, don't panic. Stop 3, is only two hours away and you can use this opportunity to make new FRIENDS, and have your FRIENDS meet their FRIENDS, and then we can all be FRIENDS!
During stops 1 & 2, University Of Dope, the first card game to celebrate Hip Hop culture will be joining us. Make sure you get in on the action and have some FUN with them as well.
FRIENDLY REMINDER: this is a themed event. We want you to pull up in your best rap artist look. Ladies pull out them neon wigs and channel your inner Lil Kim, fellas throw on that pink fur and rep your Dip Set like Killa Cam. Whether you wanna be Quavo or LL Cool J, just bring your creative energy. Rap groups are strongly encouraged, I mean whats more FUN than transforming into Run DMC with your FRIENDS! We'll have a photographer on hand capturing all your dope boy/girl fresh looks.
As much as we love all our FRIENDS, and would love to crawl with everyone of you, this event is all the way sold out. Please understands that FRIENDS will not be allowed in before the previously noted slot time at each participating bar.
Unable to attend? Want to sell your ticket ? We can connect you with a FRIEND, who is interested, please email us at fwfnyc@gmail.com.
Last but not least, please be sure to use the FUN-O-WEEN Snap filter at each bar & along the way as we crawl. Use #FUNOWEEN #fwfnyc @fwfnyc when sharing photos.
In the spirit of Hip Hop and the culture, remember... You never thought FUN with FRIENDS would take it this far, sky is the limit, and you know that you can have what you want, be what you want!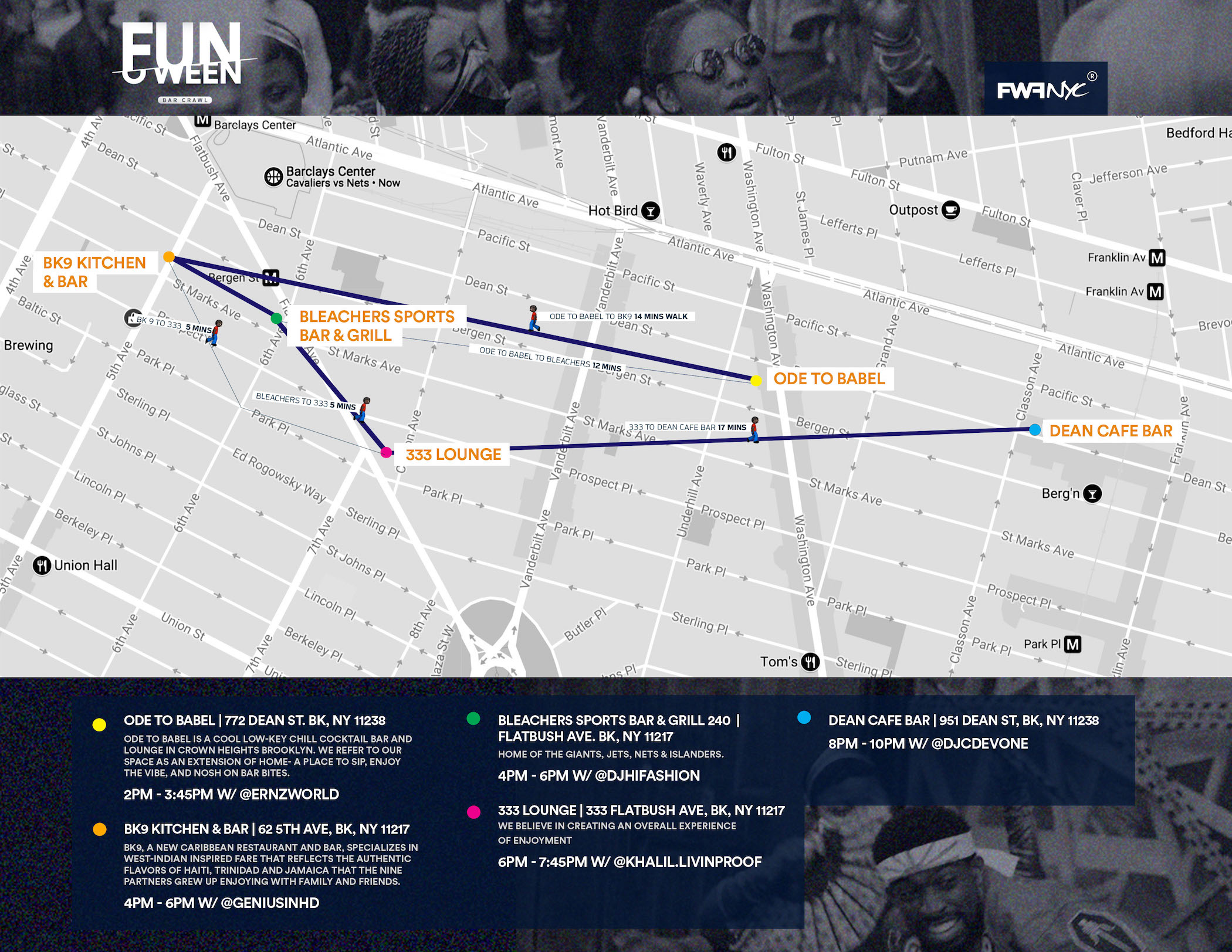 FAQs
Are there ID or minimum age requirements to enter the event?
21+ (Vaild ID) only event
Join us as we hop, skip, jump, and crawl to some of the dopest black owned bars and restaurants in Brooklyn. We're hitting some of the borough's most thorough neighborhoods including Crown Heights, Park Slope, and Prospect Heights.
Adopt a rap persona and come through reppin' for new school and old school hip-hop. Whether you wanna be Flavor Flav with the big clock, Left Eye with the war paint, or the Brooklyn Don, Notorious B.I.G., we welcome you all to the Rappers Bar Crawl.
Dive into your creativity and show us who you'd be if you could rap and flow.
What can/can't I bring into the event?
Can: A smile & FUN FRIENDS only.
Can't: Outside food or drinks & bad vibes.
How can I contact the organizer with any questions?
What's the refund policy?