Description
It's time to get ghoulish with the crew as we present FUN -O- WEEN, a FUN With FRIENDS; Halloween Bar Crawl.
Join us as a we mob BK on our first ever Bar Crawl supporting 4 black owned bars with drink specials, the livest DJs and great FRIENDS.
(Happy Hour pricing and food menus in full effect).
What kind of Halloween mob would we be if we didn't dress the part? Dress as your alter-ego, either your favorite villain if you're feeling devious or hero if you're in the saving mood.
Bar to bar is one turn up and drinking games after the next with the livest DJs, @DJMissMilan, @GeniusInHD, @ErnzWorld, & @AddedRankz rocking a unique vibe/set at each location.
The Dets:
Date: Saturday, Oct. 29th
Start Time: 3pm
Dress: Villain or Hero Attire
FREE to participate
FREE mood color changing fwf cups
*ALL we ask is that you patronize the bars (support!), bring your FRIENDS & FUN vibes as always!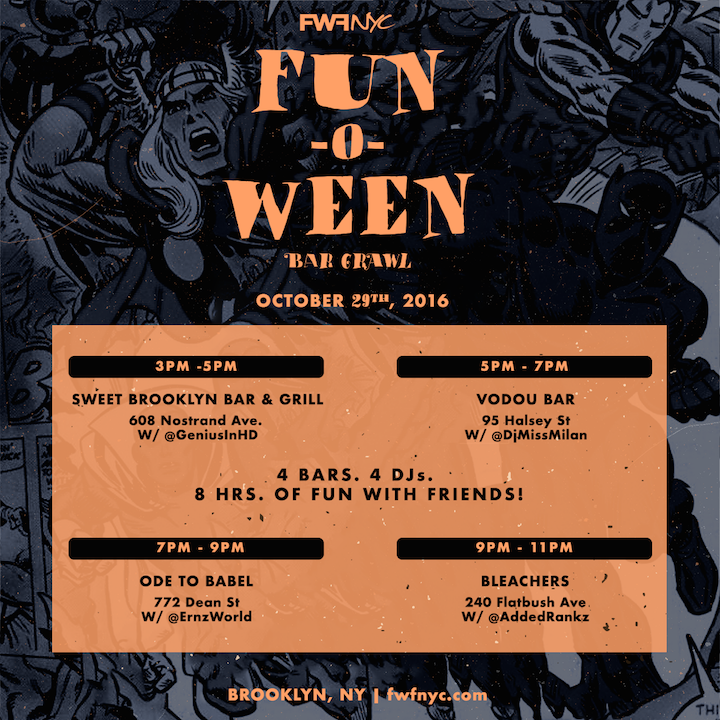 Bar 1
3pm - 5pm
W/ @GeniusInHD

608 Nostrand Ave Brooklyn, NY 11216
Bar 2
5pm - 7pm
W/ @DJMissMilan
95 Halsey St Brooklyn, NY 11216
Bar 3
7pm - 9pm
W/ @ErnzWorld
772 Dean St, Brooklyn, NY 11238
Bar 4
9pm - 11pm
W/ @AddedRankz
240 Flatbush Ave Brooklyn, NY 11217
*Each bar is 5-10mins walking distance from one another however if walking isn't your thing, Uber pool is under $8 a ride each way.
Get ready to mob VERY deep through BK supporting our community with the livest DJs, Drinks, FRIENDS and FUN around.