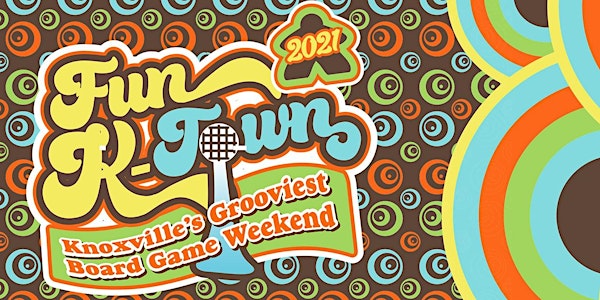 Fun K-Town 2021: Knoxville's Grooviest Board Game Weekend
Digging some board game action? Head down to Fun K-Town! Knoxville's Grooviest Board Game Weekend. And that ain't no jive talkin'.
When and where
Location
Hilton Garden Inn Knoxville Papermill Drive 6200 Papermill Drive Northwest Knoxville, TN 37919
About this event
Fun K-Town is a three day, family friendly weekend filled with board gaming for the greater Knoxville area and beyond. Invite your friends, and try the latest games on the board gaming scene. Bring your family, and see how far games have evolved from Monopoly and Scrabble. Check out a game from the Game Library, or just sit down to learn the "Game of the Hour".
Whether you are looking for new gaming friends or planning on hours of fun with old ones, this will be THE place to have Fun in K-Town. Come join us at the beautiful new Hilton Garden Inn on Papermill Drive. You will want to be sure to block out your whole weekend, because you won't want to leave until the doors close.
Whatever you do, don't wait to sign up. We are capping attendance at 150 to keep the room comfortable, and we expect a sellout event.
COVID caveats: We will be following COVID guidelines for group events from the CDC, Knox County and Hilton Hotels at the time of the event. Anyone not comfortable with the COVID rules in place at the time of the event may request a refund. Any CDC or other limitations on group sizes at the time of the event will be met by refunding tickets based on the order date (last in / first out) until the group limit is met or the event is canceled. We will also require a coronavirus liability release to be on file for every attendee.
Please feel free to send any questions to the event organizer Mike Randolph. (mrandolph@fun-k-town.com)
If you do not feel well prior to the event or have tested positive for COVID within 10 days of the event, please request a refund and plan to join us at a future Fun K-Town event.
Event Hours
Friday (Noon to Midnight)
Saturday (9am to Midnight)
Sunday (9am to 6pm)
The event has an open schedule. Attendees are welcome to come and go during the event. Tickets are available for singles, couples and families. (Don't forget to order the free companion tickets when you order a Couple or Family Pass.) Children 16 and under are required to have a parent in attendance.
How does Fun K-Town work? On your first day, come to the Fun K-Town registration desk, located to the left of the main entrance, with your Eventbrite app or printed ticket. You will be given a name badge and a brief orientation. From there you can select a game from the Game Library or Community Games, head to the Game of the Hour corner or play a game you brought to share with others. "Player's Wanted" and "Teacher Wanted" flags are available to let other attendees know you have room for one more or need a little help to get started.
What games can I expect to play? There will be a wide variety of games. Party games to strategy games. Most of the games fall into the ever-growing category of "hobby games" or "Eurogames". Shorter games may take 15 minutes while the longest games could go for half a day. Most are going to be an hour or two. Want to work as a team to solve a problem? There's a game for that. Want to be sneaky and outsmart your friends? There's a game for that too. Race cars? Cook sushi? Control armies? Chase monsters? Be a monster? There are games for all of those and more.
What if I have just started playing board games? Fun K-Town is the place for you! You can take advantage of our Game of the Hour. Grab a chair and the instructor will have you playing in no time.
I'm interested, but I'm not sure about coming by myself. Don't be shy. Knoxville has a very friendly gaming community. The Game of the Hour is a great way to connect with other gamers or look for the "Player's Wanted" signs on one of the tables.
What is the Game of the Hour? The Game of the Hour was set up for two purposes: make it easy for folks new to gaming or game conventions to quickly engage and let folks have a chance to learn some of the popular games. The Fun K-Town team has a selection of games that will be taught on a schedule on Saturday. The games will be light to medium weight games that can be taught quickly several times throughout the hour. The play times will vary from 15 to 90 minutes but there will be no rush to finish. When it is time for the next Game of the Hour, the teacher will just move to the next set of tables. There is nothing to sign up for. Just show up in the Game of the Hour corner and let the teacher know you are interested in learning their game.
How does the Gaming Library work? Fun K Town will have a collection of games available to play during the weekend. If you find one you would like to try, just hand your driver's license to the librarian on duty. Once you are done, repack the game, and return it to the librarian to collect up your license or check out another one.
Fun K-Town is listed as "family friendly". Are there activities for children? Board games are a great way to connect with your family, so families are definitely invited. We do require all attendees 16 and under to be accompanied by an adult while attendees 12 and under are to be at a table with a parent. Please consider the interests and attention span of your younger children as you register. There will be games that some elementary children can play, but not "children's games" in the traditional sense. Also, we expect a room full of gamers, so be aware it may get noisy at times.
FUN K-TOWN POLICIES
Just like board games, Fun K-Town has a few rules to make the event enjoyable for everyone.
Fun It's no mistake Fun K-Town start with "fun". Make sure your good time is not preventing someone else's fun. Keep in mind this is a family friendly event. We ask that you not bring games with a mature theme. (I'm looking at you - Scrabble After Dark!)
Food and Drinks The hotel has asked that we refrain from outside food and drinks. The hotel restaurant and bar are located just outside the gaming area. Please limit food and drinks in the gaming area. Nothing kills a great game quicker than being flooded by a soda. To help protect the games, we ask that drinks in the game room have a cap or lid. And unless you are bringing your mom, you must clean up after yourself.
Smoking and Alcohol Our event is smoke and vaping free. Smoking can be done outside the building, but under state law (TCA Section 39-17-1804), you need to be far enough away from the building that smoke doesn't waft back into the facility. Attendees that purchase an alcoholic beverage at the hotel bar are welcome to enjoy them while gaming but no outside alcohol can be brought into the venue.
Photos Throughout the weekend, we will be taking photographs to use as future event promotion or to share with our sponsors so they can see their donations in action. Attending the event is consent to your image being used in this manner.
Community Games We encourage everyone to bring games to play with their friends, new and old. Please make sure that all games are labeled with the owner's name inside the lid! (Games brought to Fun K-Town will add to the fun but will be at the game owner's risk.) If you are willing to let others borrow your games during the event, there will be Community Games tables along one wall. Games on these tables will be considered available to the group to borrow during the event. Games stored in the cabinets or under the tablecloths are for the owner's use only. If you borrow a game, please appreciate the owner's trust that the game will be returned exactly as it was found.
Questions? Please reach out to the event organizer Mike Randolph with any questions you have. (mrandolph@fun-k-town.com)
Fun K-Town is a division of IBC, Inc.