| | |
| --- | --- |
| FUN IN THE SUN SPRING BREAK CRUISE | |
Event Details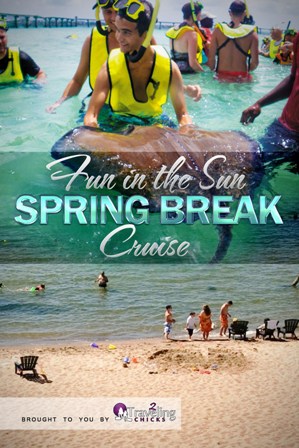 FUN IN THE SUN
Spring Break Cruise 2014
Carnival's Sensation Ship
April 6-10, 2014
4 Day Cruise
Freeport, Bahamas & Nassau, Bahamas
Cruise Itinerary
April 06 – Orlando, FL          4pm
April 07 – Freeport              10am – 5pm
April 08 – Nassau                8am – 5pm
April 09 – Fun Day At Sea
April 10 – Orlando, FL          8am
 
Cruise Package Includes
4 Day Cruise aboard Carnival's Sensation Ship
All meals, snacks and non-carbonated drinks
All entertainment and most on-board activities
Camp Carnival for kids 17 and under
All taxes and fees
Cruise Prices
Inside Cabin
$525 per person/ Family of two
$460 per person/ Family of three
$425 per person/ Family of four
 
Ocean view Cabin
$555 per person/ Family of two
$490 per person/ Family of three
$455 per person/ Family of four
Deposit Deadlines
$25 per person – May 15, 2013 (DEPOSIT SPECIAL)
$50 per person - June 15, 2013
$50 per person - July 15, 2013
$50 per person - August 15, 2013
$50 per person - September 15, 2013
$50 per person - October 15, 2013
$50 per person - November 15, 2013
$50 per person - December 15, 2013
Final Balances Due - Jan 5, 2014 (no exceptions)    
Kids Activities
Age 2-5
Sing-a-longs - Music and Movement Activities
Play dough sculptures H2Ocean Activity - Make your own Playdoh
Picture bingo - Bingo for prizes/candy
Story time - A-B-Seas Reading and Story Time
Kid's talent show
Face painting - during themed activities
PS2's, Gameboys
Soft Play and Slide Equipment
ExerSeas Indoor Ball Games, Parachute Games and Kids Aerobics
Night of Fun Parties - Featuring Candy Art, Dancing, Games and Face Painting
Funship Freddy Themed Activities
Movie Nights

Age 6-8
-PlayStation 2 and Gameboys
-Spin Art, Sand Art and Candy Art
-Face painting - during themed activities
-Kids Talent show
-ExerSeas - Ball Games, Mini Olympics, Water Balloon Games and More.
-Edu-Cruise Activities - Featuring Rockets, Turtles and Knight's Night
-H2Ocean Activities - Featuring Make your own Ice Cream, Goop and Cosmic Catch
-Sea Notes Activities - Featuring Rock Star Night, Karaoke and Feel the Music
-Water Colors Activities - Featuring Value Drawing, Print Making and Name That Tune
-Late Night Party - Featuring Freaky Food Fear Factor, Bead Making, Games and More.
-T-Shirt Decorating
-Cake Decorating
Age 9-11
-PlayStation 2 and Gameboys
-Sea Notes - Featuring Music Jeopardy, Sound It Out and Making the Band
-Water Colors Activities - Featuring Mono-printing, Out and About and Sketch Trail
-DVD Bingo for prizes
-Kids Disco's
-Pizza Pig-Out - Change to make your own Pizza's
-Edu-Cruise - Featuring Maya Mania, Pirates and more
-H2Ocean - Featuring make your own Ice Cream, Twirler-Whirler, Stir it Up and Rainbow Combinations
-Kid's Talent show
-T-shirt decorating
-ExerSeas - Featuring Basketball, Water Balloon, Volleyball and many other outdoor games
-Swimming Under the Stars
-Inters After Hours - Late Night 9-11's Hang - Featuring PS2's Spin art, sand art and candy art
-Late Night Party: 10:00pm-3:30am, featuring Video Arcade Tournament, Capture the Flag, Freaky Food Challenge and much more (Fee applies).
Age 12-14
Video gaming consoles
-Talent show - You can be the star of the show
-Dance Parties
-Late Night Teen Hang
-Late Night Movies
-Video Arcade Tournament
-Scavenger Hunts
-Karaoke
-Make Your Own Pizza
-Sporting Activities - Including games like Dodgeball, Basket Ball and Mini Golf
-Music Activities - Including games and activities like Name that Tune
-Arts and Crafts - Including activities like Decoupage Boxes
-Sand Art
-Spin Art
-Candy Art
-T-Shirt Decorating
-Carnival Twister Waterslide Races
Age 15-17
-Music World
-Amazing Gaming World
-Lounge Life
-Theme Parties
-Their own shore excursions (fee applies)
-Pool parties
-Late Night Private Teen Parties
-Teen Disco Parties

Policies
-Prices will increase August 2013
-Babies under the age of 6 months cannot cruise.
-All kids must travel with parent, grandparent or legal guardian
-All kids must be registered in the Camp Carnival program to participate in activities
-Baby sitting after 10pm will require additional fee
-Passports are strongly recommended, but not required
-All payments are non-refundable
-Connecting rooms can be requested, but availability is limited
-Names changes are permitted up until final payment
-Name change after final deadline require $50 fee
-All payments received after final payment deadline require $50 fee
Pay Online or mail payment to:
2 Traveling Chicks
Attn: Fun In The Sun
PO Box 930064
Norcross, Ga 30003
Contact
Torchia or Sharita
(888) 669-1194
trips@twotravelingchicks.com 
Organizer
Two Traveling Chicks, LLC
2 Traveling Chicks, LLC's staff embodies extensive knowledge and experience in the travel industry. With our travel expertise, we will be offering extraordinary experiences in predefined and requested vacation/travel packages for our valued customers.
We provide personal, group, corporate, destination wedding, and honeymoon travel proposals.  We are licensed, bonded, and insured and are looking forward to serving your travel needs.
For more information, contact us at 888.669.1194 or trips@twotravelingchicks.com
Stay connected with us on the following social media pages:
Twitter: @2travelingchick
Instagram: 2travelingchicks
Facebook: www.facebook.com/2travelingchicksllc
FUN IN THE SUN SPRING BREAK CRUISE