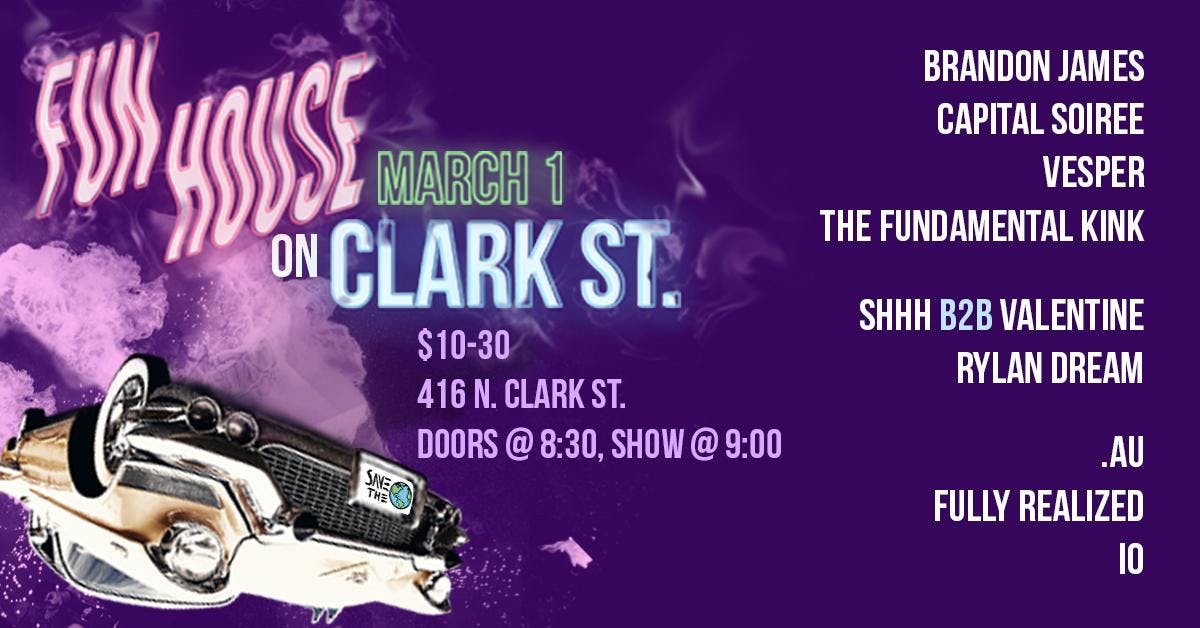 About this Event
Join us at Fun House Entertainment as we celebrate the kick-off of our first tour, Fun on the Run! For those who cannot travel the country with us, we will keep you current via our socials throughout the entire length of the tour. Chicago family, we have something amazing in store for you.
Prepare yourself for this fully immersive and sensory experience.
You will be able to interact with the space, draw on the walls, leave your mark, and witness beautiful art being created while dancing alongside your favorite bands in an intimate setting. If that's not enough, get your groove on at our silent disco.
Get your early bird tickets while you still can for this banger.
Fun House Entertainment Presents:
March 1st | 18+ | $12-$30 | 416 N Clark, St. Chicago, IL
Bands:
Brandon James
Capital Soirée
Vesper
The Fundamental KiNk
+ Special Guests
DJ Set:
Shhh (back to back) w/ Valentine Music
.AU
+ Special Guests
- - - - - - - - - -
Hey everyone, we want to make sure everyone has a great time but also we really want you to drink and party responsibly. Everyone at Fun House Entertainment strongly encourages you to be responsible and take a cab or public transportation to and from the performance if you plan on drinking. 
If you ever need help getting home for any reason at one of our events. Please find any Fun House or HVAC Pub staff and we will be more than happy to help.
Like us on Facebook - https://www.facebook.com/FunHouseChi/
Check us out online – www.funhouse.events
Follow us on Twitter - @funhousechi
Follow us on Instagram - @ funhousechi