Description
Come and join us on "Fun Art Friday"!
September Project: Abstract Negative Painting - Landscape
These exercises are to help with loosening up brush strokes, try many color palettes, get interesting with light and dark contrasts, fun shapes for easy compositions. Beginner painters are welcome.
See my website for more details: www.kimensch.com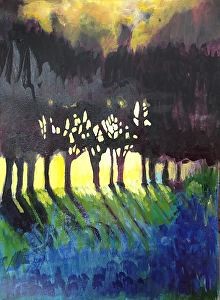 October Project: A Simply Spooky Halloween Handmade Journal
Details coming soon!
November Project: Hand Painted Christmas Cards
Details coming soon!

ALL MATERIALS WILL BE PROVIDED BY THE INSTRUCTOR KIM ENSCH.

Our student:instructor ratio is 8:1.
Tuition balance is due with registration.

CANCELLATION POLICY: If the class is cancelled by Jasmin's Art Studio, there will be a make up class which will be arranged by the Art Studio. For participants cancellations, more than two weeks before the start date, a full credit will be applied to future classes. Any difference in price will be paid by or credited to the participant at the time of the make-up class.