Sales Have Ended
Ticket sales have ended
Thank you for your order.
Sales Have Ended
Ticket sales have ended
Thank you for your order.
Description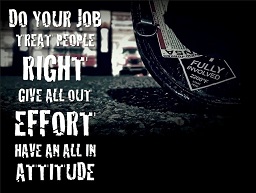 FULLY INVOLVED is geared toward professionals who wish to expand their abilities in leadership. This presentation is aimed at anyone who wishes to lead at any level, no matter the craft.
FULLY INVOLVED is rooted in improving team performance and has application in both the public and private sectors. FULLYINVOLVED has worked for over 40 years in professional football, the fire service, and applies to the business world as well.
Hundreds of fire service professionals have attended the FULLY INVOLVED Leadership Seminars and are now among the involved. Getting team members to pull towards a common goal is a key component in successful operations.
FULLY INVOLVED gives students the tools to create a pact that is applicable to all levels of the organization.
---
Mark vonAppen, a member of the Fire Service since 1998, is assigned to the fire suppression division where he holds the rank of captain. He is a committee member for California State Fire Training and has contributed to the development of Firefighter Survival and Rapid Intervention curriculums. Mark is a featured presenter at FDIC International, has been published in Fire Engineering Magazine, and is the creator of the leadership blog FULLY INVOLVED. He is an instructor for the Santa Clara County Joint Fire Academy, an academy instructor at Evergreen Community College, and a member of the "Nobody Gets Left Behind" training group. He has been involved in public speaking since 2005.