Fullscreen @ SXSW: Reggie Watts & DJ Earworm
When and where
Location
Lanai 422 Congress Avenue Austin, TX 78701
Description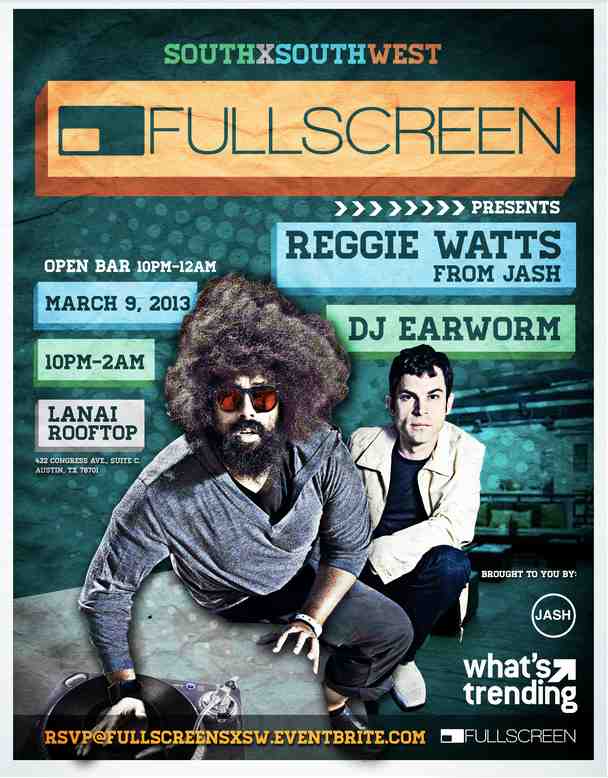 Fullscreen is coming to SXSW, and we want to see you.
Come party with us and our friends at What's Trending and JASH as we feature legendary comedian and musician Reggie Watts and mash-up genius DJ Earworm.
SXSW badges NOT required

Must be 21+

Open bar from 10 PM - midnight

Venue has limited capacity; entry is based on a first-come-first-serve basis

Lanai is located on the Southwest corner of 5th street and Congress Avenue. Entrance is on 5th street.
ABOUT REGGIE WATTS
"Deliciously strange" – LA Times
"Spectacularly original" – New York Magazine
"Do yourself a big favor and go see him on tour now." – MTV
"Musician, comedian, stand-up-surrealist-beat-boxer-force-of-nature" – Radiolab
Reggie Watts, internationally renowned vocalist/beatboxer/musician/comedian/improvisor, amazes audiences with his unpredictable performances, which are created on-the-spot using only his formidable voice and looping pedals. Blending and blurring the lines between comedy and music with his unique lyrical style, LA Weekly calls Reggie "the most wildly inventive new talent of the past five years."
As a solo performer, Reggie was handpicked by Conan O'Brien to open nightly on Conan's sold out North American "Prohibited From Being Funny on Television" tour. Reggie was crowned "Hot Comedian" by Rolling Stone, named SPIN Magazine's "Best New Comedian" and "Best of CMJ" 2010, and a featured profile in GQ's Man Of The Year issue 2010. Reggie released his debut comedy cd/dvd 'Why $#!+ So Crazy?' on Comedy Central Records in May 2010. He also released 'Reggie Watts Live at Third Man Records' in limited edition vinyl on Jack White's Third Man Records label. Reggie's most recent release 'A Live at Central Park' is currently available on CD/DVD through Comedy Central Records and on iTunes.
As a musician, Reggie was invited to join LCD Soundsystem as guest onstage at the final NY shows Spring 2011. He also sang on Regina Spektor's "Dance Anthem of the 80s" and contributed two tracks to DFA Records' Spaghetti Circus. As the frontman for Seattle rock outfit Maktub, Reggie and his band released five albums. Reggie recorded original music featured on FX's Louie and performed the theme song for Kristin Schaal's Penelope Princess of Pets. In the Spring of 2011 he recorded an original session for the hugely popular Daytrotter series.
On screen, Reggie has appeared on Conan, Late Night With Jimmy Fallon, HBO's The Yes Men Save The World, Comedy Central's Michael and Michael Have Issues, Iceland TV, UK's Funny Or Die, PBS' Electric Company, and currently stars as house band leader on the IFC original series Comedy Bang Bang with Scott Aukerman.
ABOUT DJ EARWORM
Jordan Roseman aka DJ Earworm is a San Francisco-based mashup artist who has acheived recognition for his technically sophisticated, songwriting oriented music and video mashups. DJ Earworm is most widely known for his annual twenty-five song mashup video "United State of Pop" in which he artistically mashes the top 25 songs from Billboard's Hot 100.
He was most recently hired to DJ and mashup videos for the 2012 Olympics held in London, as well as produce the opening segment to "Live at the Red Carpet" Pre-Grammy show on E! Network. Along with being hired to produce custom mashup videos for artists as diverse as Lady Gaga, Annie Lennox, Sean Kingston, and Maroon 5, DJ Earworm has also performed at corporate parties for Google, Discover, Restoration Hardware, Microsoft, Intel,People Magazine Group, and more.
ABOUT FULLSCREEN
Fullscreen is a next-generation media company building a global network of YouTube channels with content creators and brands. The Fullscreen network generates over 2 billion monthly video views and reaches over 100 million subscribers, making Fullscreen a Top 3 YouTube Partner. Fullscreen provides a full suite of end-to-end YouTube tools and services to many of the world's leading brands and media companies. Fullscreen was founded in January 2011 by George Strompolos, a co-creator of YouTube's Partnership Program. Fullscreen is based in Culver City, California (www.fullscreen.net).
ABOUT WHAT'S TRENDING
Hosted by Shira Lazar, What's Trending is an Emmy-nominated, live, interactive talk show that airs daily on YouTube at http://youtube.com/whatstrending. The show and site spotlights the videos and content creators that make for the most watched content on the platform as well as featuring interviews with celebrities, YouTube stars and media influencers. What's Trending is produced by Lazar and Damon Berger.