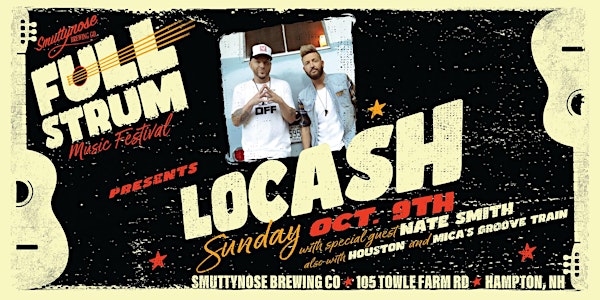 Full Strum Music Festival featuring LOCASH with Nate Smith
Full Strum Music Festival featuring LOCASH with Special Guest Nate Smith at Smuttynose Brewing
When and where
Location
Smuttynose Brewing Co. - Tasting Bar & Retail 105 Towle Farm Road Hampton, NH 03842
About this event
Country music festival featuring nationally recognized artist LOCASH with special guests Nate Smith, Houston Bernard, and Mica's Groove Train. The concert will take place outside on the 4-acre field adjacent to the brewery, rain or shine, and the campus will be closed to the public on event weekend so only ticket holders will be able to access the venue.
GA Ticket - $65 plus $20 processing fee
VIP Ticket - $85 plus $20 processing fee (upgrade includes dining at the Restaurant at Smuttynose with select menu, pre event entertainment, private VIP bar, and private entrance to event)
Both General Admission and VIP tickets provide access to the concert, beer and cocktail bars, food truck row, lawn games, and off-site parking with shuttle service.
ARTISTS
LOCASH
Country music's rowdy outliers, LOCASH, revere small-town values while giving a muscular voice to people who are passionate about working hard and playing harder.
Preston Brust and Chris Lucas have earned three GOLD career hits, two #1s (what are they), two acclaimed albums, and nearly 500 MILLION global streams since 2015. The pair have also received multiple major award nominations, but when you build a fanbase on the outskirts, it's no surprise that their first trophy came from the fans. In 2020, the duo won a Waffle House Tunie Award for Breakout Band of the Year, based on jukebox play at the short-order chain where the discerning after-closing crowd knows what rocks.
Showcasing another side of the duo's well-known wry humor and raucous leanings are the vibey "Sippin Sunsets" and "Chillionaire," which boasts about a cooler full of "I don't care."
Boisterous and unrestrained performers, Brust and Lucas have attracted the attention of iconic national brands including the first Pepsi Tailgate Tour, a multicity stadium tour of key college and NFL matchups, plus MTN Dew's newly launched Woods Or Water Getaway campaign. On the horizon is a to-be-announced project with the Outdoor Channel.
Reaching fans where they live and play matters, but Brust and Lucas are also family men with full lives and growing families offstage.
They met as DJs but forged a bond comparing musical notes and working on harmonies between sets. That kinetic creative exchange resulted in an undeniable stompy, rough-hewn sound of gritty soul swathed with gospel harmony.
As successful songwriters, they have penned hits for other artists including Keith Urban's #1 "You Gonna Fly" and Tim McGraw's Top 10 "Truck Yeah." And they have had their own high charting GOLD-selling singles including "I Love This Life" and #1 "I Know Somebody," plus recent Wheelhouse releases "Feels Like a Party," which was co-written and produced by Corey Crowder and Tyler Hubbard, and the #1 "One Big Country Song."
Their success has caught the attention of Country music tastemakers with Duo of the Year nominations from the ACM, CMA, and CMT. But those industry nods are a derivative of their genuine connection with their fans.
Brust and Lucas are attuned to what makes people passionate: working hard, loving life, and living honestly.
Nate Smith
Featuring a mix of gritty backwoods soul, rock 'n' roll swagger and velvet-thunder vocals, Nate Smith is Sony Music Nashville's latest signing whose personal journey inspired him to be a beacon of country-music hope, an inspirational mission he puts front-and-center. A California native, former worship leader, and lifelong music lover, Smith approaches that mission with a background as eclectic as it gets. Learning guitar at 13, Garth Brooks, Elvis Presley and Bob Seger were among those informing his powerful, fire-from-within vocals, while Michael Jackson made him crave the spotlight and Nirvana gave his sound a jagged edge. He first chased his neon dreams to Nashville in his early 20s – but it didn't stick. The disheartened Smith returned home and thought he was "100-percent done" with his artistic journey…until a crucible of change burned away the past.
In 2018, Smith lost everything he owned in the devastating Camp Fire which tore through Paradise, California, now known as the deadliest and most destructive wildfire in the state's history. Although his family was safe, he struggled to cope and turned back to music, hoping that it would help comfort himself and others. Help it did, inspiring a month-long road trip across the U.S. to Music City, writing music and playing dive bars along the way. Soon after his arrival to Nashville, Nate released his biggest song to date, "Wildfire," and landed a publishing deal with Sony ATV. Since then, he's released new music including "Sleeve" and "Under My Skin," which has amassed over 60 million on-demand streams to date. The singer was named a Spotify Hot Country Artist to Watch for 2021 – an accurate prediction as he rounded out the year with a record deal and two brand new songs: "Raised Up" and the viral TikTok hit "I Don't Wanna Go To Heaven." The powerhouse vocalist is now making waves with his latest release, "Whiskey On You," which is currently climbing the country radio charts. Nate is managed by Kevin "Chief" Zaruk and Simon Tikhman with The Core Entertainment.
Houston Bernard
Houston Bernard's country roots run deep with a family tree that includes songwriters, touring musicians and an outlaw gunfighter nicknamed "Bitter Creek" who The Eagles recorded a song about on Desperado. Born in Oklahoma, raised in Alaska, he's also an Army veteran who has now comfortably settled into life as a professional and popular independent country music recording artist, touring throughout the United States. With musical inspirations that range from Bruce Springsteen to Dolly Parton, Houston draws upon his family's rich country and rockabilly musical roots by bringing upbeat and relatable music with powerhouse vocals. With original songs like "All We Are Is Memories," "People We Are," and "American Dream" Houston has garnered hundreds of thousands of streams across Spotify and YouTube, along with being featured on Country Rebel, CMT.com, The Heartland Network, and The Country Network. He's also shared bills with many country superstars like Luke Bryan, Old Dominion, Granger Smith, Michael Ray, Montgomery Gentry, Marshall Tucker Band, and Clint Black. One listen to his new single "Ever Gonna Be," produced by hitmaker Bill McDermott in Nashville's Omni Sound Studios, and it's immediately evident that they've recorded a country hit which is currently charting on Texas Regional country radio.
Mica's Groove Train
Yamica was born in Portsmouth, NH. She is the oldest granddaughter of the late Jean M. Jones, Portsmouth's 'Lady of Song' and she is great-niece to local jazz legend Sharon "Brown Sugar" Jones. At age 3, she gave her first performance and has been singing ever since. This singer/songwriter can be found performing all over the seacoast with her father, also a local legend in blues, R&B and funk, Pete Peterson
Her first album – a collaboration with Don "Sev" Severance can be found on CD Baby. Yamica has shared the stage with many of southern New Hampshire and some of Tucson, AZ's finest local artists, and has had the distinct pleasure of providing background vocals for Dave Gerard on his album, 'The Zoomy Trail'.
"A rising indie artist whose performance and writing captures fresh grooves filled with tasty hooks and tells her story of living life as a Mother and an artist." ~Parker Wheeler
Her current & past projects are 'Mica's Groove Train', 'Family Affair', 'The Mica-Sev Project' and 'Yamica & The Preacherz'. Musical influences for Yamica include Etta James, Bonnie Raitt, Susan Tedeschi, India Arie, Stevie Wonder, Jill Scott, Bill Withers, Hil St. Soul, Bob Marley, Anita Baker, Aretha Franklin, Erika Badu and Oleta Adams and many others.
EVENT INFO
COVID-19
Due to COVID-19 restrictions, changes to the event or venue may occur. Event specific information will be shared with attendees and posted on the Full Strum Music Festival social media and website.
To keep fans, event staff, and organizers safe, Smuttynose and Full Strum Music Festival continue to monitor COVID-19 trends and meet or exceed protocols mandated by the local government. By purchasing tickets to this event, unless prohibited by law, you agree to abide by the health and safety measures in effect at the time of the event, which may include, but not be limited to, wearing masks, providing proof of vaccination status and/or providing proof of negative COVID-19 test. Entry requirements and venue protocols are subject to change. Event specific information will be shared with attendees and posted on the Full Strum Music Festival social media and website.
Performers / Acts / Event Subject to Change
Performers, Artists, Acts, Players are subject to change or cancellation at any time without notice. No refund will be owed if any performer, artist, act, player or any other scheduled performance, person or group is changed or canceled and the event still occurs.
No Refunds / Exchanges
All purchases are non-refundable and not able to be exchanged.
Rain or Shine
Unless otherwise determined, all events are considered RAIN or SHINE. No refunds will be given due to inclement weather.