Description
Louisiana Purchase Zoological Society Fundraiser Concert will be held at Landry Vineyards on October 14, 2017. Music provided by Louisiana Soul Revival featuring Doug Duffey will have you on your feet with their groovy sounds.
Come celebrate an afternoon of fun with your family and community while listening to local music, eating Cajun food and enjoying Landry Vineyards wine! All proceeds will be donated to the Bring Back the Train campaign.
Advance tickets are $10.00 per adult; $15.00 at the door. Children 17 and under are FREE!
Tickets will also serve as an entry into our raffle! Two raffle packages:
$50 to Magic Grill & $50 to Miletello Sports City Grill
$50 to Sage Restaurant with wine basket
Chef Pat Nolan and The Cookout will be on site with food and soft drinks available for purchase.
Please DO NOT bring any outside alcohol, but support Landry Vineyards through wine purchases.

Bring lawn chairs or blanket. NO pets.
Table Reservations available by calling Landry Vineyards at (318) 557-9050. Landry Vineyards is not preselling tickets.

For more information, please contact Heather Moore 318-376-2501.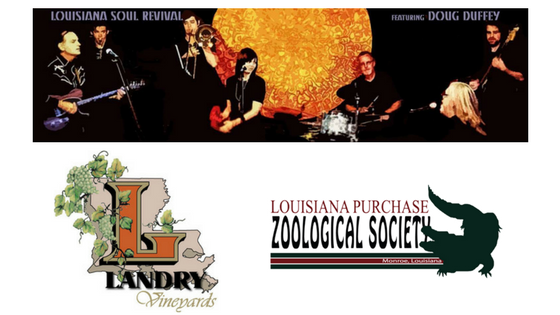 Date and Time
Location
Refund Policy