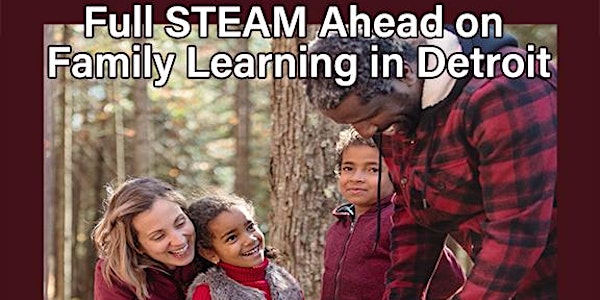 Full STEAM Ahead on Family Learning in Detroit
Improving Family Learning Outcomes by Empowering Detroit's Family-Serving Educators
About this event
Please join your Detroit education colleagues as we gather virtually on a Thursday afternoon to discuss and learn from each other about Family STEAM (Science, Technology, Engineering, Arts and Math) learning experiences.
We will kick-off this one-day, 90-minute virtual conference with a short Keynote by international family learning expert, Dr. Lynn D. Dierking (Institute for Learning Innovation). After a discussion with Lynn, we will then break into small group breakout sessions to engage in further discussion and shared learning, followed by one final large group discussion and summary.
Each participant will be able to attend 2 of the following 3 sessions (we will be recording all sessions so you can catch the one you missed later):
How to get the best results out of your online STEAM program!
Session Presenters:
Phil Grumm, Henry Ford Museum
Erica Matheny, Inventors' Hall of Fame
Anna Sterner, Michigan Science Center
Steven Vrla, Detroit Zoological Society
Cultivating and Nurturing Family STEAM: Curiosity, Play, and Wonder.
Session Presenters:
Lorrie Beaumont, Lorrie Beaumont Consulting
Cassie Byrd, Michigan Science Center
Jayme Cellitioci, Inventors' Hall of Fame
Amy Green & Barbi Wilson, Detroit Zoological Society
Building Capacity and Empowering Adults in STEAM Exploration.
Session Presenters:
Yolanda Eddins, New Paradigm Schools
Diane Miller, Detroit Zoological Society
Carrie Shrier, MSU Extension
Registration is free, but the conference attendance will be limited to a maximum of 50 attendees. Registrants from Detroit will be given first priority. Individuals interested from outside of Detroit will be put on a waiting list and will be emailed the Monday before the event on their status. Further details will be available here in the following weeks as well communicated to registrants by email.
To Register, You Must Agree to Our Meeting Code of Conduct:
The Institute for Learning Innovation (ILI) convenes gatherings that are welcoming, respectful, inclusive, and collaborative, providing a positive experience, regardless of gender, sexual orientation, disability, physical appearance, body size, race/ethnicity, or religion. As a gathering convener who strives to share ideas and freedom of thought and expression, we do not tolerate harassment of gathering participants or our staff and volunteers. All communication should be appropriate for a professional audience. Discriminatory and/or harassing language and imagery is not appropriate at any ILI gathering, or associated events and online media. Participants are subject to the full ILI Code of Conduct for Gatherings (link). Participants violating this code may be sanctioned or expelled from the gathering without a refund, if appropriate, at the discretion of the organizers of the gathering. Further action may be taken for particularly egregious behavior.
If you wish to report a breach of the Code of Conduct, please contact the gathering host in person or by email, Dr. John H. Falk (john.falk@freechoicelearning.org). Misconduct reports will only be shared with authorized persons and will be confidential.