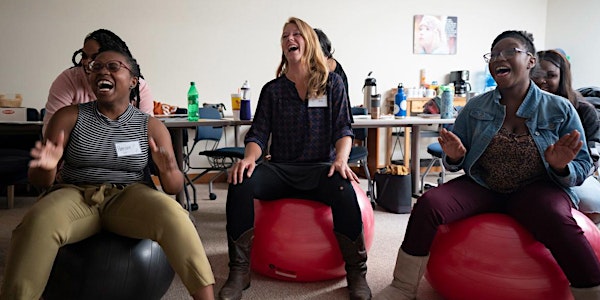 Full Spectrum Doula Training
It is a Full Spectrum Training! Learn the Doulas role through from pregnancy loss to birth and postpartum care.
About this event
Join Lamaze certified childbirth educators and DONA certified birth doulas and doula trainers, Chama Woydak, Jen Chandlee, and Joanne Zerdy for a 7 week full spectrum doula training!
This Full Spectrum Bundle will prepare you to support families across the spectrum of birth and death.
In this course, we will ground our learning in the pillars of doula care across reproductive health, radical community building, healing communication, navigating health care systems, Institutional racism, and exploring complex reproductive situations and advocacy.
2 training qualify for DONA Certifications and 2 trained certificates!
No Prerequisites Required to Start!
What's included:
Introduction to Childbirth Course for Doulas
DONA Birth Doula Training
DONA Postpartum Doula Training
Supporting Perinatal Miscarriage and Loss
Course Format
All Classes are taught over Zoom in Eastern Standard Time. Participants must be fully present for the Birth and Postpartum Doula Training portions to receive a certificate of attendance, your first step towards certification.
Saturday, September 10: Introduction to Childbirth for Doulas 8:00am - 5:30pm
Saturday, September 17 : Supporting Perinatal Loss 9am -5pm
Saturday, Sept. 24 & Oct. 1 : DONA Birth Doula Training 8:00am -5:30pm both days
Saturday, Oct 8, 15, 22: Postpartum 8:30am to 5:30pm all three days
Subject Matter Included in the Curriculum:
Childbirth Education (intro)
Lactation
Pillars of Care of Care: what doulas do
DONA Code of Ethics and standards of practice
Certification Requirements
Doulas as Advocates
Power of Language & Active Listening
Cultural Humility
Reproductive Justice Introduction
Disparities in Healthcare systems
Trauma Informed Care
Cycle Awareness Introduction
Birth Control Options
Miscarriage and Stillbirth
Support Through Grief and Loss
Fertility Support
Doula Support for Each Stage of Labor
Comfort Measures
Pain Management
Navigating Induction
Technologies and Interventions
Birth Support
Multiples
Compassionate Cesarean Birth Support
Business and Branding 101 for the Birth and Postpartum Doula
Interviewing Skills
Working with Back-Ups and Partnerships
Self Care for the Doula
Newborns Immediately Following birth
Postpartum Changes in the Birthing Person
Integrating the Birth Experience
Perinatal Mental Health
Newborn Behavior and Care
Integrating the Baby into the Family
Baby Wearing/Soothing Techniques
Breast/Chest Feeding
Pumping and Bottle Feeding
Making Referrals
Your Full Spectrum Business
Booking Clients
Networking
Community Work
These trainings also Include guest speakers from many local reproductive support professions.
What sets this 7 week Full Spectrum training apart?
~ A dynamic, interactive online learning environment featuring small group activities, role play, videos, and more... we have FUN!
~ A DONA International-approved, evidence-based curriculum for both Birth and Postpartum Doulas
~ Our trainers, have a combined over 60 years of experience as a birth and postpartum doulas, a childbirth, postpartum, and lactation educators and mentoring small business owners & new doulas
~ You will be challenged! We cover innate bias & institutionalized racism within birth, postpartum, loss and abortion, crossing cultures, developing compassion, social justice issues, and how to handle sticky situations
~ You will gain the necessary skills to navigate many different reproductive scenarios, some of which are life skills that can be applied beyond doula work
~ This is an inclusive training that welcomes all family structures, races/ethnicities, gender identities and expressions, religions, and sexual orientations. Full Spectrum Doulas are needed in all communities!