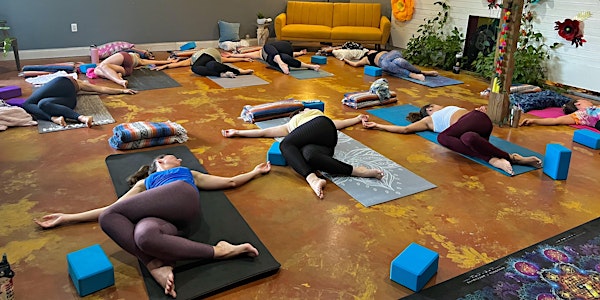 Full Moon Yoga, Yoga Nidra + Sound Bath
❉ RELAX ❉ RELEASE ❉ REJUVENATE ❉ with Yoga followed by Yoga Nidra + a Sound Bath focusing on letting go led by @SoulFullBrooke !
When and where
Location
Christina's Therapeutic Touch 2260 Carey Street #STE4 Slidell, LA 70458
Refund Policy
Refunds up to 7 days before event
Eventbrite's fee is nonrefundable.
About this event
DETAILS:
A 50-minute Yoga Flow followed by Yoga Nidra + a Sound Bath where you will be guided into a deep meditation as you relax and release what no longer serves you while attuning to the Quartz singing bowls.
🌙 There is a Full Moon on 11/8 making this a great time to release the old and stagnant energy/ tension that is no longer needed, in order to create space for the new as you step into your most aligned self.
___________________
Address: Christina's Therapeutic Touch - 2260 Carey St STE4, Slidell, LA 70458
* *The building is on the corner of Robert St and Carey St. The entrance is technically on Robert St. You will see a sign for Christina's Therapeutic Touch over the door and know you are at the right place!**
Ticket Pricing:
Early Bird - $44
Door Price - $55
___________________
Vinyasa Yoga Flow.
A Vinyasa Yoga Flow for all level practitioners from beginner to advanced. All are welcome!
Yoga Nidra + Sound Bath.
A beautiful blend of Yoga Nidra + Sound Healing where we relax deeply in a guided meditation as we attune to the beautiful vibrations of singing bowls. Yoga Nidra is also known as, "yogic sleep." During Yoga Nidra, you will enter a calming state that triggers a relaxation response, naturally reducing stress in the body and mind. The practice creates physical and mental activities that change brain waves to release emotional tension, slow down the nervous system, and allow muscles to relax.
How does Yoga Nidra work?
While falling asleep, brain waves begin moving from thoughtful beta waves, pass through the stages of alpha waves, then theta waves, and finally enter the slowest frequency of sleep - delta waves. Yoga Nidra guides practitioners into a state of relaxation between the alpha and theta state. This allows us to lie in deep relaxation between waking and sleeping. This state calms the autonomic nervous system that regulates the body's processes that take place without a conscious effort. In addition, it puts the parasympathetic nervous system into a deeper resting state. By calming the nervous system, this guided meditation deeply benefits the brain and body.
Yoga Nidra Benefits:
✦ Improves thought patterns.✦ Reduces stress. ✦ Enhances cognitive memory + performance. ✦Improves mindfulness.✦ Diminishes symptoms of anxiety + depression. ✦ Helps treat chronic pain. ✦ Reduces PTSD. ✦ Improves sleep + insomnia. ✦ Improves self-esteem + confidence. ✦ Lowers blood pressure. ✦ Enhances creativity. ✦ Strengthens immune system. ✦ Recharges vital energy. ✦ Balances the nervous system. ✦ Strengthens the endocrine system. ✦ Improves mindfulness. ✦ Improves self-esteem + confidence.
What to bring with you:
‣ Water to keep hydrated!
‣ Yoga mat. If you don't have a yoga mat, we will have some available for use.
‣ Eye mask. Using an eye mask or small towel to put over your eyes will help you relax deeper.
‣ Pillow or bolster for under your knees for added comfort during Yoga Nidra. This is optional, but very nice to have for lower back support.
‣ Yourself and a smile! 😊
_________________________________
Soul Full Union's Upcoming Events at Christina's Therapeutic Touch:
► New Moon Women's Circle + Cacao Ceremony - 12/29
☞ click here to view events!
_________________________________
About Brooke:
Brooke has been teaching yoga and practicing meditation for 10 years. During this time, she founded a yoga studio in New Orleans, assisted in many yoga teacher-trainings, and taught countless workshops. Brooke finds these practices to be essential for her own well-being and is extremely passionate about sharing them with others to assist in finding balance and harmony within mind, body, and spirit. Now certified in Holographic Sound Healing, she creates a unique sound bath - blending together Yoga Nidra and sound healing while using singing bowls to induce a profound state of relaxation. Using this blend of sound, we are able to go much deeper into meditation and enter a state conducive to deep reflection and subsequent healing. Brooke refers to herself as an 'enthusiast of all things living' - a reflection of her deep love for nature, animals, connecting with other people, and this magical thing we call the human experience.