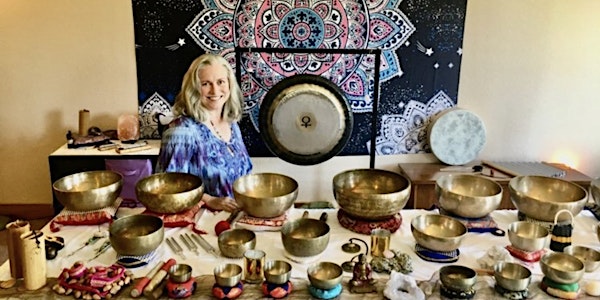 Full Moon Vid Recording: Tibetan Bowl /Gong SoundBath with Mikaela K. Jones
Sound Bath Video Recording with my 23 Tibetan singing bowls, Venus gong, & more. Link up Wednesday 12/ 7 - morning of 12/11. Listen often!
About this event
**This is UP until tomorrow morning. Sliding scale! Enjoy!
This Tibetan Bowl & Gong Sound Bath Video Recording link goes UP Wednesday 12/8 at 5pm PST and will be up until 12/11 Sunday morning, 10 am PST. You can listen to it as many times as you like from the comfort of your own home/ bed(!) during this time frame, so watch often! Use it for Intention Ceremony, meditation, and deep release into a restful night's sleep. You can also purchase it up until Saturday night at 7pm PST. PLEASE MAKE SURE I HAVE YOUR EMAIL ADDRESS SO I CAN SEND YOU THE LINK **
I warmly invite you to my Full Moon in Gemini Video Recording of my Tibetan Singing Bowl & Venus Paiste Gong Sound Bath to release, clear any congestion & chaos in your energy field, and dive deep into internal peace, love & self-nurturance. The more the better, especially for the holiday season. This one is a 'no talking' (i.e., no guided meditation) sound bath and it will sound like I'm right in the room with you. :)
Lie back, close your eyes and enjoy this NO TALKING sound bath with the beautiful harmonics & overtones of my 23 Tibetan singing bowls and Venus Paiste gong that relax the body, quiet the mind, and soothe & uplift the emotional body so that you can gently release, and move into deep peace, clarity and Self-healing.
Along with my beautiful Tibetan bowls & gong, you will experience various chimes, bells, and some of the sweetest nature-like sounds taking you deep into the meditative brainwave states of Theta, where self-healing and communion with your Eternal Self can occur.
Thank you so much for sharing these Sound Bath Sessions with your friends & family. It enables me to keep the sliding scale option.
Sound Baths also Promote:
Physical & Emotional Pain Relief, Lowers Blood Pressure, Release of Blocked Emotions, Anxiety / Stress Relief, Deep Relaxation, Better Sleep, Boost in Immunity System, Heightened Clarity, Ability to Concentrate & Creativity, Elevated States of Consciousness, Enhanced Intuition... to name a few.
"I, like everyone else, have been stressed out to the max the past couple of years. I've been to Mikaela's sound baths in Portland and wasn't sure if an online Sound Bath would be as good. I was pleasantly blown away. With just a phone and my cheap earbuds, it sounded like she was playing the instruments right over my head... here in my bedroom! When it was over, I didn't need to schlep all my stuff and drive home. I simply drifted off into one of the deepest night's sleep I've had in months. I woke up feeling refreshed, lighter, and more 'me' than I have in some time. I will definitely be doing these Video Recordings regularly. Thank you, Mikaela, for getting set up to do these online!" ~ C. Leon
For many more testimonials, please visit: http://www.onlinesoundsanctuary.com
Exchange: sliding scale $15-55
To avoid any fees, you can pay in any of the following ways:
Venmo me at Mikaela-Jones-6
CashApp at $MikaelaJones6
Zelle: Use the above email & 503-705-1609 for the id
To use your credit card:
simply use the button above to purchase your sliding scale ticket and then send me an email at MikaelaKatherineJones@gmail.com and I'll send you the link. :)
I will send out the link to the Recording Wednesday before 5 pm PST. You can purchase the link anytime up until the last night - Saturday night window up until 5pm and I'll send you the link. Again, the link will be up until 10AM Sunday morning PST.
My professional studio setup sounds divine! Earbuds/headphones or Blue Tooth speaker is still ideal.
I look forward to diving deep into peace & bliss with these beautiful, powerful sound frequencies with you. ~Mikaela Katherine Jones
MIKAELA KATHERINE JONES is a multi-trained sound bath meditation leader, and has been offering public sound bath events since 2007. She has thirty years of training/teaching experience in spiritual traditions from the power of sound frequency and vocal toning training with Jonathan Goldman, Suren Shrestha, etc, to hypnotherapy, meditation & manifestation. A multi-published spiritual author of the Book of Light & best-selling Little Book of Light: 111 Ways to Bring Light Into Your Life, it is Mikaela's Intention to help you release and align, so that you may Commune with your True Self and live your most fulfilling life.
Questions: Email MikaelaKatherineJones@gmail.com
http://www.OnlineSoundSanctuary.com