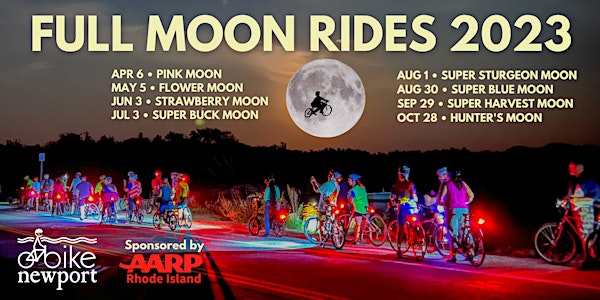 Full Moon Rides with Bike Newport, Sponsored by AARP Rhode Island
Savor the moonlit beauty of our city by the sea with Bike Newport's monthly Full Moon Rides, sponsored by AARP Rhode Island
Date and time
Wednesday, August 30 · 6:15 - 9pm EDT
Location
Equality Park Place Equality Park Place Broadway Newport, RI 02840
About this event
Please join us for our 2023 Full Moon Rides, with all the dates listed below! Bike Newport is grateful to AARP Rhode Island for sponsoring this enjoyable monthly group ride, and we look forward to riding with you. We'll gather at Equality Park in downtown Newport, and once we get to King's Park our coastal route will bring us past scenic harbor, bay, and ocean views - lit first by the setting sun, and then by the rising moon.
Registration will be available each month after the prior ride completes. Tickets for the August 30th ride will become avaliable after 10:00pm on August 1st. Please remember to return to this site to register if you wish to return for additional rides, and keep an eye on our social media @bikenewportri for related announcements! The ride is free. You'll see a 'Donate' option during checkout, and we are grateful for all who wish to support Bike Newport's education and advocacy initiatives.
The Ride:
We'll ride 15 miles on Newport's scenic roads and coastline by the light of the moon – from downtown Newport to Fort Adams, around the beautiful Ocean Loop, and along the mansions of Bellevue Avenue. Please note: This ride is for riders aged 18 and above.
The August 30th ride gathers 6:15pm, ride starts at 6:45, with sunset at 7:21, and moonrise at 7:34.
The September 29th ride gathers at 5:30pm, ride starts at 6:00, with sunset at 6:30 and moonrise at 6:49.
We recommend arriving 20-30 minutes before the start of each ride.
Registration:
• Registration is required for each ride. Complete this form to register.
• Times vary according to the moon rise.
• Mark your calendars and sign up... spaces fill up quickly!
• If, after signing up, you cannot attend, please cancel your reservation so someone else may take your place.
2023 Full Moon Ride Dates:
• Pink Moon. Thursday, April 6th
• Flower Moon. Friday, May 5th
• Strawberry Moon. Saturday, June 3rd
• Super Buck Moon. Monday, July 3rd
• Super Sturgeon Moon. Tuesday, August 1st
• Super Blue Moon. Wednesday, August 30th
• Super Harvest Moon, Friday, September 29th
• Hunter's Moon. Saturday, October 28th
Event Details:
• This ride is for 18+.
• Meet at Equality Park W, Newport, RI 02840 (adjacent to Parlor Bar & Kitchen, 200 Broadway)
• This is a NIGHT ride, we will be riding on dark roads. A helmet, front headlight, and rear red blinking light are required to participate. Be sure your lights are well charged. Please also bring your water bottle, snack, and bicycle lock.
• Please check your air pressure, brakes, and gears to ensure your bike is in good working order before arriving. An air pump will be available at the start of the ride.
• Dress for the weather! We will cancel the ride if weather/road conditions are not safe and attempt a reschedule within 3 days. Keep an eye on our social media @BikeNewportRI for updates.
• This ride traverses downtown streets, and is suited for riders comfortable riding with traffic.
• We continue to be COVID-compliant and adhere to current CDC recommendations.
• If you'd like to follow the route, download the 'Ride Spot' app and follow along here. The route begins at Equality Park on Broadway, proceeds down Marlborough St, left onto America's Cup Ave., right onto lower Thames St, right onto Wellington Ave to King's Park, and then follows the coastal route to Fort Adams State Park, around the Ocean Loop, down Bellevue Ave, to Touro St, and back to Broadway via Spring St.
• Thanks for registering. We look forward to riding with you. 🌝
Thanks to AARP Rhode Island for again sponsoring these popular Full Moon Rides!
When you register, you'll be invited to "opt-in" for Bike Newport to share your contact information with AARP Rhode Island - our host and generous sponsor. Once you do, AARP will contact you to confirm your interest. This is a wonderful way to find out about other programs that might interest you.
About the organizer
Bike Newport's mission is to create the conditions that lead to more people biking more often, and to ensure that bicycling is a viable, safe and comfortable primary choice for transportaton and recreation.
On Sale Aug 1 at 10:00 PM