Description
Each month, people from near and far come together to celebrate the magical aura of the Full Moon on Pelican Island an exclusive part of the Biscayne Bay Aquatic Preserve that is accessible only by boat.
This month, we paddle beneath the light of the Sturgeon Moon, named so by Native tribes who know the sturgeon are particularly fishable on America's waterways under this late summer night light. The event begins at dusk, when groups of paddlers depart from the marina on single and double kayaks and paddleboards, adorned with lanterns, to make the short trip to the island. On arrival, the small boats, paddles and boards are lined up on the shore and people make their way to the island's gazebos, BBQ pits and picnic tables under a twilight sky.
Darkness descends and the Sturgeon Moon makes its appearance to light up the bay. iPaddle staff melt our signature s'mores over a camp fire while revelers chill out, explore the island, converse or just take in the ambiance of the night.
After a rejuvenating, relaxing and unique experience on the island, it's time to return to Miami with a short paddle, across the moonlit bay, back to Pelican Harbor Marina.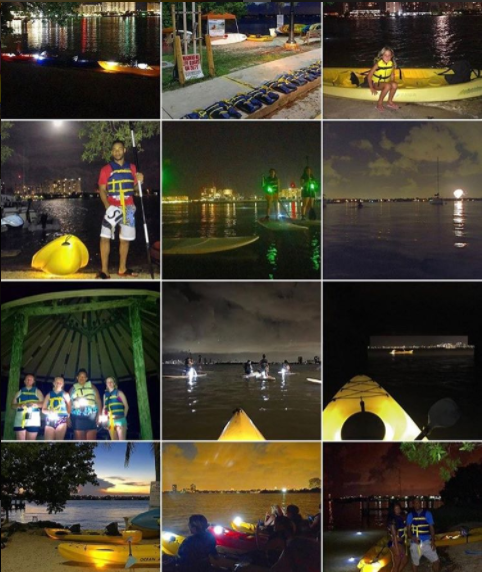 Now some Native societies refer to the August moon as a the "Full Green Corn Moon", clearly a crop harvest reference. Here at iPaddle, we certainly connect more with the fishing theme so will stick with calling it the "Sturgeon Moon".