Description
Each month, people from near and far come together to celebrate the magical aura of the Full Moon on Pelican Island an exclusive part of the Biscayne Bay Aquatic Preserve that is accessible only by boat.
This month, the tour group paddles under the Full Beaver Moon, so named since it was the last time for colonial fur trappers to hunt beaver before the swamps freeze over. The event begins just after dusk, when groups of paddlers depart from the marina on single and double kayaks and paddleboards, adorned with lanterns, to make the short trip to the island. On arrival, the small boats, paddles and boards are lined up on the shore and people make their way to the island's gazebos, BBQ areas and picnic tables under a twilight sky.
On these long dark November nights, iPaddle staff prepare our signature s'mores over a camp fire while thoe on the tour chill out, explore the island, converse or just take in the ambiance of the night.
After a rejuvenating, relaxing and unique experience on the island, it's time to return to Miami with a short paddle, across the moonlit bay, taking in the glow of Downtown Miami on the way back to Pelican Harbor Marina.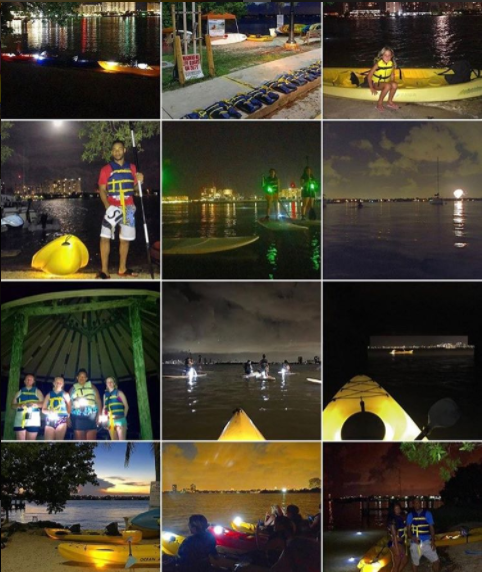 Fur trapping may no longer be a "thing" and we have no exposure to beavers or frozen swamps here in South Florida. Still, we loved this full moon's name and the opportunity to include the Beaver Moon graphic above in this event's banner. The image is, in part, taken from this page on the Old Farmer's Almanac website.