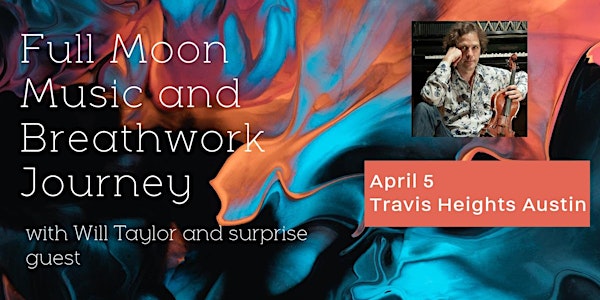 Full Moon Nature Walk w Music and Stories in South Austin 4-05
A full moon celebration in South Austin with live music, stories and a bit of oral history about this lush Austin neighborhood...
Date and time
Wednesday, April 5 · 7:30 - 9:30pm CDT
Location
Travis Heights 207 East Monroe Austin, TX 78704
About this event
At Strings in the Woods we help humans escape from the speed of modern life to feel alive and inspired with our acoustic music and nature immersion experiences.
Imagine being lead on a private musical hike by Austin Music Award winner Will Taylor, enjoying songs along the way as you explore a stunning neighborhood and corner park, with a sprinkle of meditation, history, geology, and plant identification.
End your busy week and reconnect with a small group of humans while the sun sets into the evening.
If it rains or is cold, we move inside for warmth at the Life in the City Church on East Monroe.
Schedule:
7 pm Meet and Mingle at park 207 East Monroe (on a corner)
7:30 pm Nature Walk with traveling music, guided meditation and live music under the full moon
WHAT TO BRING
Hiking shoes
Water
Towel/yoga Mat
Love and a friend
Be sure to use the the bathroom before the event.
There is a coffee shop close to the event, and plenty of nature spots along the way.
Side effects may include: relaxation, balancing your nervous system, releasing what no longer serves, feeling whole and connected to nature, being nurtured and cared for by community.
Get on list for future events:
Text Alerts: +1 (512) 379-5934
-------------------------------------------------------------------
Event will be limited to 50 guests.
See a pic of the meetup spot below, as well as videos from our past experiences...
Alicia, February 2022
This was truly a unique and magnificent experience. Will is an awesome tour guide, he provided a nice history of the park, took us to some magical places, and provided live music along the way. Go on this tour! You won't regret it!
Cassandra, April 2019
"Will took us on a musical journey in nature that was incredible and therapeutic. We had a small group and hiked along a trail that was fairly leveled due to one of the hiker's physical condition. Along the way Will made sure all of us were taken care of and having a good time. We were later joined by another amazing musician/cellist Charles. The only downside to this trip is that whenever I'm hiking now I miss Will and his gang of musicians. I've been spoiled. Next time I will bring my teenage kids."
Sarah, April 2019
"This was a unique experience, and I enjoyed combining music with nature. The fresh air along with soothing music, made me feel at ease and one with our group. Highly recommend, if you love the outdoors and love listening to live music."
***Debbie, April 2019
"Unique experience connecting both to nature and to music. A quieter, reflective sidelight on the frenetic Austin tourist experience. Also, a chance to network with some area musicians."
Info on the artists:
Will Taylor
I've been a professional violinist and Austin music icon for over 20 years, jamming with folks such as Willie Nelson, Pearl Jam, Gary Clark Jr., Shawn Colvin, Shiny Ribs, Guy Forsyth, the Turtle Island String Quartet at Town Hall in New York City and so many more. I'm a lover of the outdoors and the magic of bringing people into nature for life-changing moments of connection and musical bliss. I have been a concert presenter for over 20 years and in 2006 produced a concert of the Beatles White Album that was broadcast on radio and drew over 1600 folks for two shows. You can learn more about me at StringsAttached.org, StringsintheWoods.com and about my love of community outreach through StringsAttachedCares.org
The meetup spot is just to the left of this house. You'll see a small corner park.
About the organizer
Will Taylor
Violinist, composer and Austin Music Award winner Will Taylor has performed with Pearl Jam, Grammy winner Shawn Colvin, P-Diddy, Willie Nelson, Ronny Cox (Deliverance) and many more.
Will is the founder of Strings Attached in Austin, Texas.
When Pearl Jam came to Austin in October 2009 to record their live Austin City Limits Studio show that would be broadcast nationally, they choose to entrust the strings portion of the show to Will Taylor and Strings Attached.
Will Taylor has a musical proposition for you -- a playful, dignified, off-kilter idea that brings honor to Austin's identity as "The Live Music Capital of the World." It's a cool concept. But it's just a bit . . . different.
Imagine what might happen, suggests Taylor, if we took Austin's most popular singer-songwriters -- Abra Moore, or Jimmy LaFave, or Patrice Pike, or Ray Wylie Hubbard -- and let them perform, live, in a church? Then imagine if you paired those artists with acoustic "chamber" instruments -- cello, violin, viola, trumpet and hand drums -- and wrote new arrangements, adding dashes of jazz and classical music, that revealed new facets of their most beautiful or familiar songs?
Imagine what might happen if you dared to blur all these boundaries between pop music and jazz, between rock music and classical music, between the musical realm and the lyrical realm, between the honky-tonk and the church, and in the spirit of art and fun and experimentation, you reached out for something . . . transcendent?