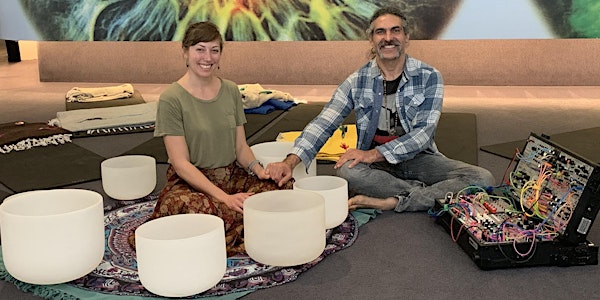 Full Moon Modular Sound Bath: Chakra Balancing
Channel the remnant energy of the Full Moon by coming into energetic alignment and tapping into your vibrancy!
When and where
Location
The Center SF 548 Fillmore Street San Francisco, CA 94114
Refund Policy
Refunds up to 7 days before event
Eventbrite's fee is nonrefundable.
About this event
Brandee and Christian will guide you on a journey through the 7 main energy centers, pausing at each one to detect if it needs extra attention and to consider the affect the full moon and the new year have on your state of being. They will use breath, visualization, mantra, meditation, and sound to tune you up and raise the frequency of the whole room, leaving us all buzzing.
Modular Sound Bath is a Los Angeles-based duo interested in raising vibrations via direct tonal healing. Their sound baths stimulate the 7 chakras, bringing participants into a more balanced and aware state of being. The steadiness of their crystal singing bowls pairs beautifully with the varied arrangements available with Modular Synthesis (electronic synthesized ambient sound), sometimes melding the frequencies seamlessly, and sometimes adding some texture to the relaxing hum of the bowls. This approach to sound gives participants an opportunity to travel, to take a journey through their minds. The responses vary greatly: "It felt like I was traveling through space;" "I was flooded with memories from childhood;" "It felt like an acid trip, but safe;" "This is the first time I've been able to truly meditate."
Please Bring:
A mat to rest on; a pillow to lay your head on; a blanket to cover and ground yourself
*There will be limited yoga props such as mats and blankets available for use*
Price: $25 Early Bird // $30 at the door
Brandee's first encounter with crystal singing bowls was in Joshua Tree in a room constructed for perfect acoustics, which is the best way one could experience sound! She attended many crystal bowl sound baths and found that each one felt totally unique. She started asking students and friends what their experiences were and found that this sound phenomenon elicits a wide range of emotional, physical, and psychological reactions that don't necessarily end when the sound stops. Inspired by her fascination with this and the fact that a gracious Siesta Yoga (the studio she runs with Christian) student gifted her and Christian their very own sound bowl, she started playing...and couldn't stop. Every yoga class suddenly ended with a sound bath. As she builds the vibrations from the bowl, she lets them carry her away into a more present and mindful state, leaving the whole room feeling cleansed with each session.
Christian has been making music for most of his life. His most recent endeavor is in the world of synthesized sound. With the freedom this provides, he is able to constantly create and recreate new patches of music. Within the realm of our Modular Sound Bath, he goes from a basic idea into an experimentation that carries, plays off of, and imitates the vibrations of the crystal sound bowls. Christian is able to play with sound from the ground up, and invent a unique ethereal journey each time he plays, which sends his mind into a serene and meditative state so powerful it settles a room full of people.
modularsoundbath.com
IG: @modularsoundbath
FB: facebook.com/modularsoundbath
Twitter: @modsoundbath