Full Moon Mindful Silent Disco Halloween hosted by Peace Inside Live, Goddess Process, HELD & Kindra
About this event
Are you seeking connection?
Is Halloween your favorite holiday?
Need a reason to get out of the house in a socially responsible way?
Then join your mindful tribe on Venice beach for Full Moon intention setting, Beach dancing an occasional howling at the moon.
Move your body, Connect with friends and celebrate Halloween in a whole new way!
Mindful Halloween is a joint Full Moon Manifestation dance party hosted by Peace Inside Live, Goddess Process, Kindra and Held
THIS EVENT HAS LIMITED CAPACITY AND WILL SELL OUT - NO WALK UPS ALLOWED for health safety.
COSTUME CONTEST: Whoever comes in the best costume will also
WIN:
- A Free ticket to a Peace Inside Live workshop
- A Free Goddess Tribe membership
A- Free ticket to Held
SCHEDULE OF EVENTS
4:00-4:30 PM / Check-in
4:30-5:00PM / Opening Grounding Meditation and Sound Healing with AVI SHERBILL from Sound Rx by Peace Inside Live
5:00-5:20 PM / HELD Connection Experience with Aviva Mo
5:20-5:50 PM / Full Moon Release Visualization & Intention Setting with Amber J. Lawson of Goddess Process
5:50-6:30 PM/ Sunset and Silent Disco Dance
7:00 PM/ Closing Ritual
Location: Venice Beach (exact location to be announced 24 hours before the event)
Socially Distant Community Intention setting and connection ceremonies.
Peace Inside Live was founded in quarantine on the notion that finding peace inside leads to peace outside, and that self-care and personal growth through simple every-day practices builds a more peaceful and understanding world.
Peace Inside Live currently offers virtual live daily classes and weekly workshops from facilitators around the world including: Emotional Freedom Technique, Breathwork, Sound Healing, Self Love Meditation, Mindfulness For Creativity, Kundalini Activation Process and More! We are dedicated to making these tools accessible to everyone and bringing our services to those in need. Our current classes are donation-based and we are providing free sessions to nonprofits for employees and to those they service. Sign up for access to our classes, schedule and more at PeaceInside.Live/signup
Goddess Process is a transformation company for women who desire a supportive, diverse community as the catalyst to transform various aspects of their life, uplevel their career, and step into their power. Goddess Process comes from the unique, community-based spiritual framework known as SPRC invented by Amber J Lawson. Goddess Process is the foundation for the community, immersive experiences, and digital tools that are impacting women around the world.
For more info go to www.GoddessProcess.us
HELD is a place for you to relax and ground. To leave your worries and devices at the door. To be with others who embrace the value of human connection and healthy touch, and believe in its power to feed mind, body and spirit. HELD is not a "cuddle party," couples event, or sensual/sexual workshop. (Nothing wrong with that, it's just not what we're up to.) It is a guided experience with exercises in pairs, small groups, and as a collective.
For more go to www.weareheld.com
Kindra - Kindra is creating an on-line/off-line community that values authenticity, kindness, creativity and personal growth. Meet people for dating, friendship and collaboration on our connection app, available for both iPhone and Android, and at our connection and community-building events.
https://www.kindra.life/
Peekaboo Masks The Peekaboo brand is the brainchild of two Miami entrepreneurs stuck in quarantine. They wanted to use their skill set to design premium masks and face shields that could be made locally in South Florida. More info at https://peekaboomasks.com/
Peekaboo Masks and Shields feature unique and limited designs. They are meant to be worn with pride, and hopefully, will brighten someone's day!
This event is perfect for all your friends.
Come and connect with nature.
NOTE: You MUST have a reservation. No walk ups for everyones health safety.
This event WILL sell out so grab your ticket fast!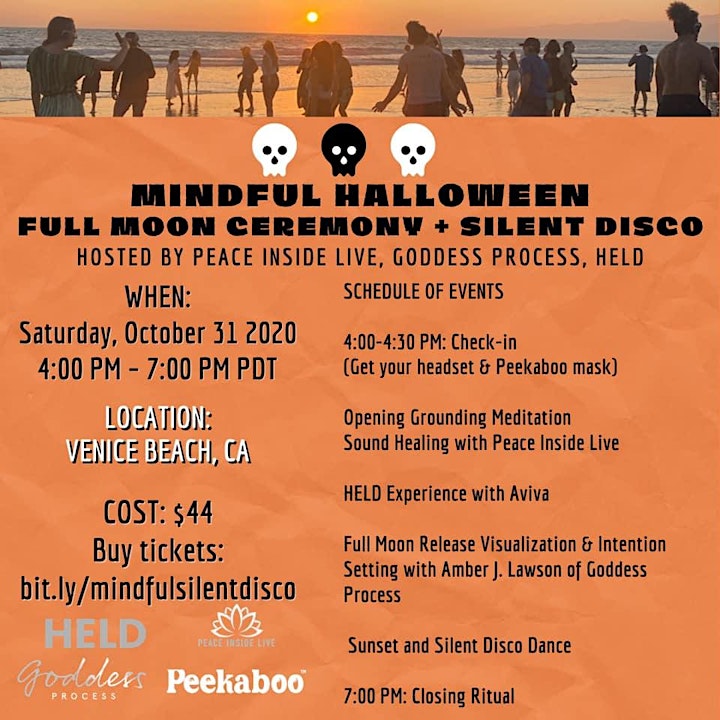 Organizer of Full Moon Mindful Silent Disco Halloween Event