Event Information
Refund Policy
Contact the organizer to request a refund.
Eventbrite's fee is nonrefundable.
Join us for a Reiki infused Sound Bath under the light of the Full Moon to create magic, manifest your dreams, and release your fears.
About this Event
We're back! Join me and my sister, Shanila, for our favorite Full Moon Manifestation Reiki Sound Bath on January 28th. While we miss doing these in person, we are so excited to still be able to offer these events to you virtually. Self healing and Self love is more important than ever right now. Under the light of the Full Moon, we are able to maximize our healing energies in order to create magic, manifest our dreams, and release our fears. By taking care of ourselves, we are able to show up more lovingly for our communities and for the world at large.
The evening will begin with a brief discussion of the importance of setting intentions with the energy of the Full Moon. Shanila will then lead us in a sound bath with 432hz crystal quartz singing bowls, gong, and other instruments curated to help relax the mind, ease the body, and get us into deep states of bliss, while Golebahar leads a chakra cleansing meditation infused with Reiki. We will close out the evening with Oracle Card pulls.
Reiki is quite literally defined as Spiritual Healing (Rei-) Energy (-Ki). It is a Japanese healing technique wherein the Reiki Healer channels this gentle energy to share it with either themselves or another recipient (human, animals, plants, even inanimate objects) in order to bring balance back to the body, mind, and soul.
A Reiki itself does not heal you, but rather it activates the natural healing processes of your body to heal stored physical, emotional, mental and spiritual wounds. It is a very gentle healing energy that may be felt as warm or cold sensations or tingling in the areas being healed. Reiki also activates your intuition so you may receive guidance through visualization, sounds, or thoughts.
Reiki Energy + Sound Healing Frequencies can be sent at a distance over time and space. This means the Reiki Healer, Sound Practitioner, and the recipients do not need to be in the same place in order for the recipients to receive the healing energy. This is why we are able to share a Reiki Sound Bath with you via a virtual workshop. The effects will be just as powerful as if we were in the same room.
Why Attend a Reiki Sound Bath?
Improve sleep, better mood, and increased focus
Release old energies and activation of new energies
Heal mental, emotional, physical, and spiritual wounds
Connect to your Higher Self and to the Universe/God/Source/All That Is
Process difficult emotions such as anxiety, fear, guilt, grief, sadness, anger, loneliness, and shame
Strengthen the different systems of the body
Connect with intuition by turning down the critical, judgmental part of our brain to allow for our intuition come forward
Join us for this beautiful ceremony to manifest all your deepest desires with the healing energies of the Full Moon, Sound and Reiki. You will leave feeling more connected to your mind, body, and soul.
This is a Virtual Ceremony
You'll get a private access link sent to you.
Here are some suggestions for enjoying Virtual Reiki Sound Baths:
1. Find a cozy space to be where you can sit or lay comfortably for our time together.
2. Turn off distractions and lay your phone or computer down.
3. Use headphones if you are able.
4. Bring a journal and paper to set intentions
5. Bring your favorite crystals and any other magical items you'd like to create a healing space.
6. Invite friends and family to experience it with you (make sure each person has registered with this link).
7. Experience the entire duration of the meditation and sound bath.
Questions? Please reach out to Golebahar at golebahar@geniusbahar.com.
We can't wait to manifest with you!
Shanila & Golebahar
About the Facilitators
Shanila 4th generation sound healer, breathwork coach, women's researcher, and national speaker. She is the founder of AlwaysPlay Studios and The Integrative Healing Academy. She trains sound healers, breathwork facilitators, mentors those who are stepping into their woo.
www.alwaysplay.org | @shanila.sattar | @alwaysplaystudios | @integrativehealingacademy
Golebahar "geniusbahar" Tabatabai is an Intuitive Healer and Reiki Master Teacher. Her soul's purpose is to teach you how to awaken your intuitive healing power, heal your trauma, and cultivate deeper self love. She empowers her students by gaining clarity on where their blocks are [with compassion], breaking through them [with gratitude], and stepping into the highest version of themselves [with unwavering joy].
Golebahar does this through blending her training in Reiki energy healing, self love + empowerment coaching, meditation, yoga, the chakra system, moonology, numerology, inner child healing, shadow work, dream interpretations, journaling, channeling, and oracle card readings. She is inspired by her own healing journey, having overcome abandonment, abuse, anxiety, and depression using the very tools and practices she teaches her clients and students.
Golebahar mentors those who work with her to co-create a unique and personalized healing journey that empowers them to turn their biggest pain into their most magical superpower. She lives by the mantra, "We are not who we are in spite of our past. We are who we are because of it." She offers private 1:1 coaching, trains Reiki healers, and leads workshops for companies and communities across the country.
Outside of her purpose as a healer and teacher, Golebahar is most aligned when she is spending time with her loved ones, traveling, dancing at a festival, making music with her partner, being in nature, and playing with her kitty, RÜFÜS.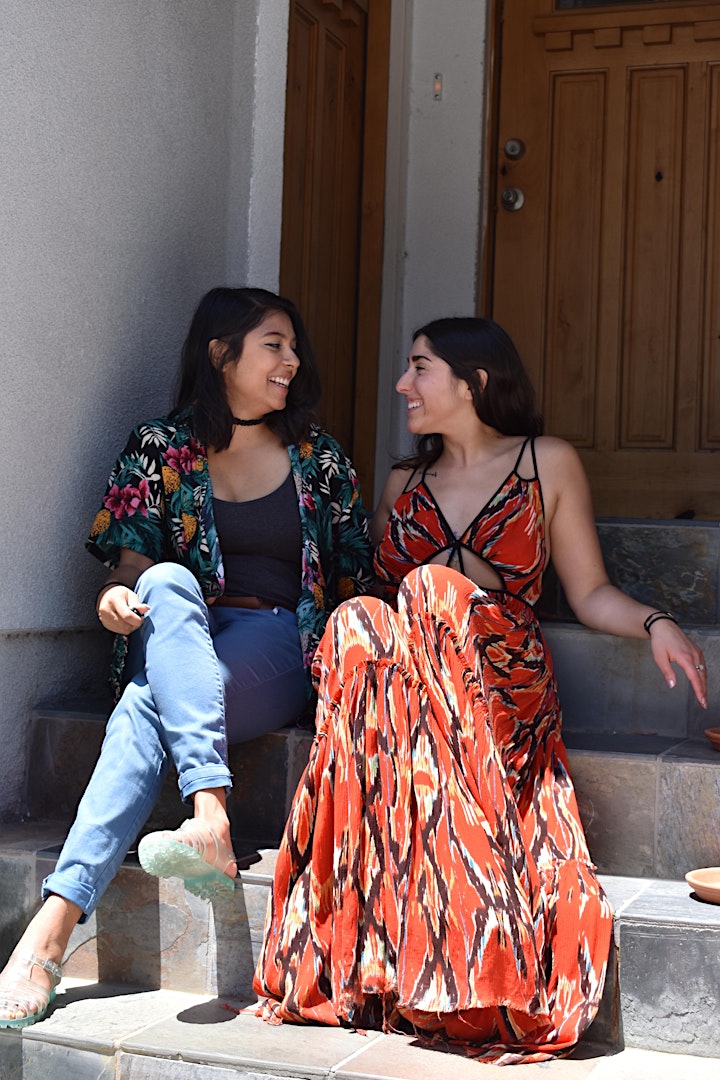 Date and Time
Location
Refund Policy
Contact the organizer to request a refund.
Eventbrite's fee is nonrefundable.