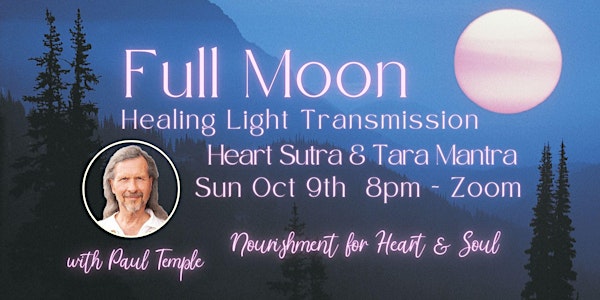 Full Moon: Healing Light Transmission
Heart Sutra & Tara Mantra with Paul Temple
Refund Policy
Contact the organizer to request a refund.
Eventbrite's fee is nonrefundable.
About this event
You are invited to dissolve into another dimension – the pure land, the timeless Buddha-field. Immerse yourself in the warm spaciousness of Tibetan Bowls and chanting that calm the nervous system, still the mind, and connect us with the sacred sound current.
We live in difficult times - trying to remember who we really are. We are all wounded – we were all born into a culture of trauma and dysfunction, marked by a history of war, violence, oppression, and corruption. We all need healing: deep soul healing to nurture our sacred hearts and reclaim our luminous soul sovereignty.
The Healing Light is full of love, forgiveness, compassion, and acceptance. While some say it can heal physical ailments, it is mostly for healing our hearts and souls – helping us accept and understand the fullness of "that which is" in love and compassion.
Tara is the Mother of Compassion. The Heart Sutra activates the "heart of perfect wisdom" which generates pure light for the benefit of all-being. In this online session, we will enter a state of luminous awareness to remember the pure, radiant inner-self that is beyond ego, illness, and suffering. In receiving this healing light we nurture the wounded heart and integrate the fractured soul to help us return to wholeness and our full radiant potential as spiritual beings in human bodies – connected to the entire universe.
"Beautiful Music, Sacred Space" ~Deva Premal & Miten
Peaceful. Penetrating. Pure. These words have been used to describe Paul Temple's RadianceMatrix, who has toured internationally with these musical meditations. His album RADIANCE MIXES, featuring the voice of Deva Premal, went to #5 on iTunes World Music chart. www.RadianceMatrix.com
"Some people play music and some people channel spirit thru sound. RadianceMatrix is definitely a powerful channel." ~ Melissa, Boulder, CO
Registration: Sliding scale: $11.11, $13.13 to $22.22
Limited live attendance is available at Double Rainbow Ranch. Please contact Paul for more information.