Description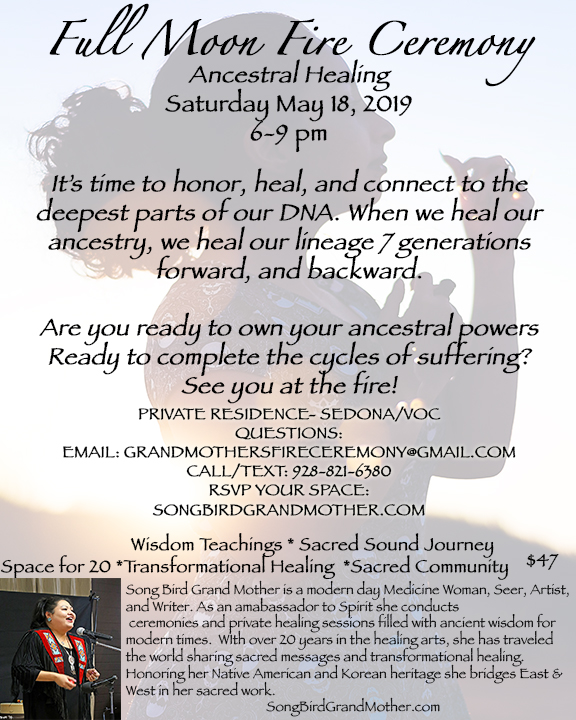 As the wind begins to carry us into the next season of Summer, we will end this season strong with an honoring, blessing, and healing of our ancestry.
For this fire, we will release the trauma carried down through the lineages AND amplify the blessings the ancestors have gifted us.
We will discuss the difference between "healed" lineages and "dry" lineages. Come and honor who you came from, where you are, and where you are going with this ceremony created to honor the truth deep within.
This is a fire for anyone ready to clear the patterns, habits, pains, and sufferings of childhood, and honor the truth and fullness of who they came to be in this lifetime.
When we heal the truma's of the past, we begin to see life in a new light, and from that place all life transforms around us.

The most important and sacred work we can all do in this lifetime is to heal ourselves. For when we do this, we heal all those around us.
Come and be in a safe space, under the stars, in sacred community.
The fire is open to men and women. No children under 16.
Please email or call for questions.
GrandMothersFireCeremony@gmail.com
or call/text 928-821-6380
Details:
Tea and water will be available
No food so please come nourished.

This is an outdoor fire, please bring blankets and dress warmly. If there is rain or snow we will move the fire indoors. Come prepared to be outside. The ceremony is in the backyard, parking is on the street or driveway.
The Address is given when your ticket is confirmed. It will arrive by email, so please look for it.


Things to bring for you:

Open heart, Open Mind

Notebook/pen

Wear Comfortable clothing

Water

Pillow/blanket/Chair-
There are some chairs, and spaces on the carpet to sit. There are also additional pillows and blankets for those traveling.

Anything you would like "charged" on our altar (Jewelry, stones, pictures etc...)

Flowers for the prayer altar

It is proper protocol to bring a gift to the host. (these sacred herbs are used for the fire) please bring one of the following:

Cedar, tobacco, sweet grass, sage, lavender, palo santo, Juniper, Corn meal or pollen, Mugwort, or another sacred herb