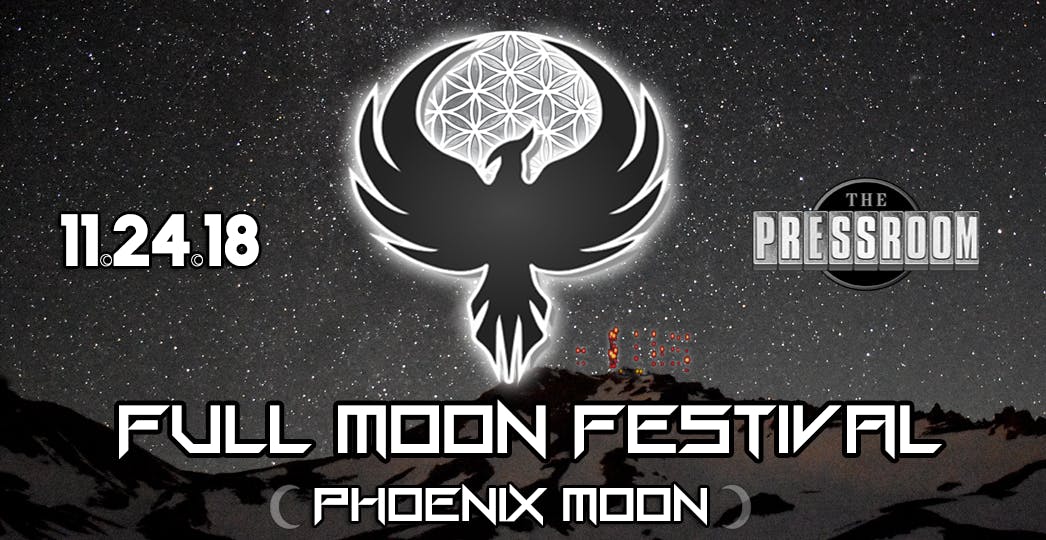 About this Event
11.24.18
Is Phoenix the heart of Arizona? Or is Phoenix the mythological symbol of our becoming a new creature through our ever-evolving cycle: Birth, Death, Rebirth. 
We welcome the experience with an open, loving heart; And with that gift of love, the appreciation for every fleeting, impermanent moment, knowing it will never be exactly like this again, nor does it need to be. For we are here, open; ready to let go; in love. Ready to burn and release that which no longer serves us, ready to grow in love, into anew. 
What are we waiting for? The Full Moon. 
Join the Full Moon Festival (PHX) as we welcome November's Full Moon with the tradition of Arizona's finest music, art, food, community and celebration. Mark your calendars for Saturday, November 24th, 2018 as we collectively build a night our city will remember, only to set it aflame.
~Line Up~
Tech House Stage (hosted by Techno Snobs/BFF)
8p - Lo
9 - Klu
10 - Cameron Kalis
11 - Cormac
12a - Disco Zombie
1 - Sean Watson
2 - Ivan Purple
Bass Stage (hosted by Nasty Humanz)
8:25p - Gordon and Kate Yoga (Walter Yoga)
8:55 - Preflowz
9:40 - R3ALZ
10:30 - Dungeon Destroyah
11:22 - Dark Mark
12:15a - SLUGGO
1:10 - Not Your Shadow
2:00 - We are Legion
Live Stage 
9p - Ricky Spanish 
9:30 - Lizzy Page
10 - Andy Warpigs
10:50 - Something like Seduction
11:40 - Drum Circle w/ Daniel Hirtz 
12:10a - Seanloui
1 - House of Stairs
1:50 - Psychdelic Mushroom Culture
Silent Disco (sponsored by Happy Headphones)
9 - Chiief. 
9:50 - Disco Stu 
10:40 FAIRYDVST
11:30 - Veloces 
12:20 - Butters 
1:10 - Mango and Nanners
2 - Nick Hadder
Heart Shala
9p - E Alo
10 - Nove Messe
11 - Elikeneons (Elikenagi B2B EONS)
12a - Yoga w/ Katie Hembrough and Psilosapiens
1 Wet Paint
2 Prism Shank
$25 at door. 
~Full Moon Dress Code~ is as follows: intentionally chosen clothing reflecting the magic and majesty of the moon. - levana 
Doors open at 8:08pm, 18+ with valid ID, come vibe.