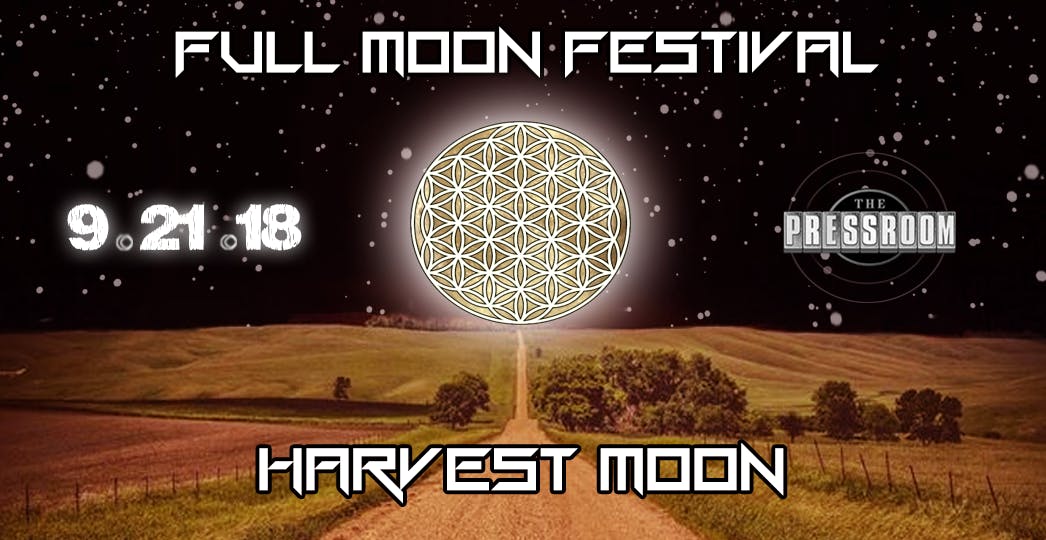 About this Event
September's Harvest Moon marks the most internationally celebrated Full Moon in the world, and Phoenix's Full Moon Festival has something special planned for our AZ family. With the ☾ harvest moon ☽ comes the beginning of fall, the seasonal changing of colors, and an abundance of celebration. Phoenix's most beloved multi-genre music and arts festival will bring another unforgettable night on the Autumn Equinox, Friday, September 21. We'll get you loosened up with Vinyasa flow yoga while La Luna rises in the night sky, turn your groove on with soulful selections from Phoenix's favorite local musicians, then turn up the dance.
The Pressroom will be expanded and enhanced for this epic lunar celebration. Burning man art cars, interactive art installations, performance art pieces, fire spinning and unlockable Easter egg features of the Festival are all in the works. We remain steadfast in our dedication to making the Full Moon Festival the stomping grounds for community gathering, organization, and inspiration, as well as the premiere hot-spot for local music, food and art and an ecstatic experience for all that join us.
Music Line-up Includes:
Tryb, Elwer, Stoneypie, The Color 8, Hazel, DJ Mike Dao, Dartanyan Kane, Noodlebox, J. Christo, Nasty Humanz ft. Golden and MORE!
~Full Moon Dress Code~ is as follows: intentionally chosen clothing reflecting the magic and majesty of the moon. - levana 
Limited $15 Early Bird Lunar Admission tickets available online. $20 General Lunar Admission tickets available afterward and at door.
Doors open at 8:08pm, 18+ with valid ID, come vibe.