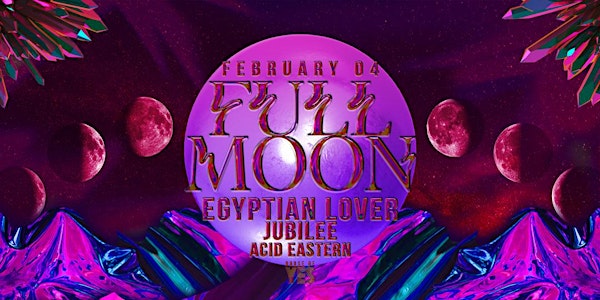 FULL MOON: Egyptian Lover, Jubilee, Acid Eastern
House of Yes presents FULL MOON, a celebration of our wild natures.
When and where
Location
House of Yes 2 Wyckoff Avenue Brooklyn, NY 11237
About this event
Align in your vibe with the surreal spirits of sensuality, as we bask in the lunar love of this February full moon. Nurture your nature and shine like the star that you are. Surrender to the ancient Moon Gods and stomp to the celestial beats by The King of the Nile, Egyptian Lover! Tonight we connect to the cosmos and radiate in the ritual of timeless dance magic madness. Revitalize. Rejuvenate. Celebrate. It's a full moon, baby. Light your candles and get with the flow.
: : : LOOKS : : :
Interstellar Excellence · Crystalline Commanders · Zodiac Warriors · Celestial Glitter Gods/Godesses · Astrological Fantasy · Metallics and Cosmic Couture · See more inspiration HERE.
: : : MUSIC : : :
An American musician, vocalist, producer and DJ, Egyptian Lover stormed the LA rap scene in the early 1980s, famously known for his 808 tracks, often compared to Kraftwerk with the lyrical content of Prince. His distribution brand Egyptian Empire Records is one of the world's first electro labels, and he continues to tour the world spinning beats and performing his classics.
Jubilee has been staying up all night since as long as anyone can remember. She grew up in South Florida on the sounds of Miami bass, freestyle and Dirty South rap blasting from local radio stations like Power 96 and 99 Jamz. As a teen, she traveled to raves up and down the coast, absorbing Florida's uniquely regional palette of breaks, electro and drum 'n' bass. By the time she moved to New York City and started frequenting drum 'n' bass parties like Direct Drive and Konkrete Jungle, D&B was already becoming a gateway drug to a love of other UK underground styles such as grime, garage, dubstep and UK funky.
Acid Eastern (David Kiss + Material Witness)
Acid Eastern is a performance collective that specializes in stimulating the minds of their audiences beyond their perceived limits.Our faculty includes experts on performance art, music, and altered states of consciousness and matter. We also regularly feature guest facilitators at the top of their field from around the world.Æ have recently been anointing dancefloors with trance-inducing, psychedelic acid-house and crunchy-electro DJ sets paired with complimentary performance art at club nights Blood Night and Night Cult.They've also been performing live ambient sets, taking listeners on deep-meditative journeys, and setting the vibe in the chill-out room with down-tempo experimental improvised grooves.
21+ | No Re-Entry
TABLES: YES, we have tables!- contact Reservations@houseofyes.org to book yours 🍾
Subscribe to our email list for first access to events & tickets: bit.ly/YESEMAILS
* * * SAFER SPACES POLICY * * *
House of Yes is a space for everyone to feel welcome. We have a zero tolerance policy for harassment, unwanted touch, and discrimination. Always ASK before touching anyone at our events. If someone is making you uncomfortable, speak to a security guard or ask for a manager. We will believe you, and we will help. All restrooms in our venue are gender neutral. The entrance to the venue is ADA accessible. Strobe lights are used during performances and parties. Find out more at houseofyes.org/SAFER