Full Moon Earth Day White Tantric Yoga Circle

Friday, April 22, 2016 from 7:00 PM to 9:00 PM (HST)
Event Details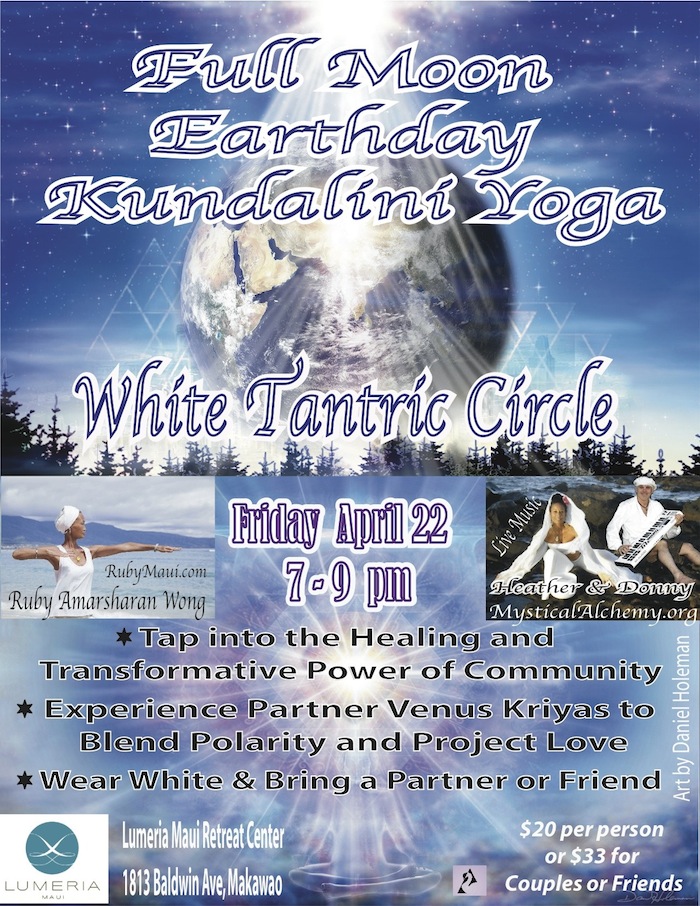 Join us for the Full Moon White Tantric Yoga Circle on Earth Day! Let's raise up the love vibration for the planet! This two hour experience will be led Kundalini Yoga Teacher Ruby Amarsharan Wong. She will be sharing special Venus Kriyas to help bring balance and empower Love! Live music will be performed by Heather and Donny of Mystical Alchemy!
Where White and bring a partner if possible!
Lumeria Maui Yoga Shala
1813 Baldwin Ave
Makawao, HI 96768
$20 at the door or $33 if you bring a partner
Bring a Yoga Mat & Water
Experience the partner Venus kriyas a tool to blend polarity energies for spiritual growth. Allow the focus to stay at the heart, projecting love and caring the experience of ecstasy and bliss. Tap into the healing and transformative power of the community.
Benefits of White Tantric Yoga
- Clearing mental noise;
- Achieving Emotional Balance;
- Cleansing suffering from the depth of our being;
- Purifying the Nadis (energy channels);
- Sharpening the senses;
- Enhancing intuition and creativity;
- Activating the chakras;
- Restoring the body's natural sexual charge;
- Transmuting sexual energy into honey waves of bliss;
- Disappearing as self into love
Lastly please note the following:
Promptness -- as we are creating sacred space and it is distracting when people arrive late so we request that you make every effort to arrive by 7:00pm. If you do come in after we have begun, please enter quietly and mindfully.
Children -- we highly value diversity and welcome children who can hold a sacred space. Please be aware that our sound baths are a time of quiet inner reflection and stillness and we like this to be honored without any unnecessary distractions.
Lumeria Maui Grounds -- please be aware that we are guests on the property. You are welcome to enjoy and make dinner or lunch reservations in the restaurant. In addition, they charge a Spa Fee to use their pool and hot tub which can be arranged through their front desk 808-579-8877. As we end our events during their quiet hours they ask that we leave directly afterwards and not doddle or roam the grounds. For more information visit www.MysticalAlchemy.org or email us at BlackSwanTemple@gmail.com or call 310-415-8821 Mahalo nui for helping to spread the word!
Organizer
Mystical Alchemy
Bringing the mystical into the everyday for transformation and inspiration
MysticalAlchemy.org
A Black Swan Temple project!